Argan Skin Food Lab Melasma Spot Out Intensive Whitening Repair Cream 40ml
Special Price
TK 490.00
Regular Price
TK 790.00

Argan Skin Food Lab Melasma Spot Out Intensive Whitening Repair Cream contains collagen and niacinamide ingredient specially for help improve the appearance of melasma patches and dark spots, intensively nourishes, smooths out, improves the tone and adds a youthful-looking radiance to the complexion. This activates ingredients have a soothing and brightening effect, enrichment considerably improve your skin's appearance, make it smoother, softer, silkier, evener, eliminate skin laxity and imperfections.
Features
Increases whitening effect of the skin
Removes melasma spot and hyperpigmentation
Quickly absorb and restores skin elasticity
Improves skin tone and moisturize level
Suitable for all skin types
Protect skin from sun damage
Contains with collagen and niacinamide
Argan Skin Food Lab Melasma Spot Out Intensive Whitening Repair Cream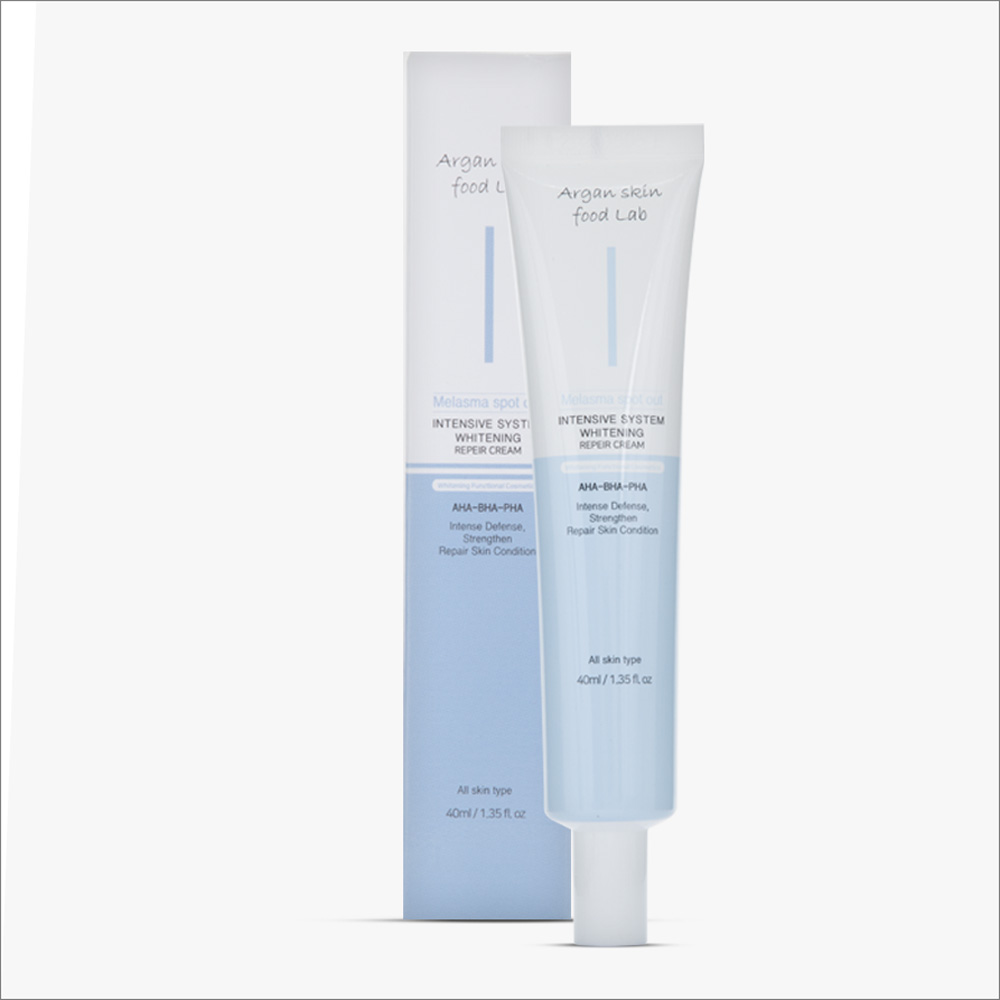 This Cream has anti-inflammatory and healing properties, which helps fade dark marks and evens out skin tone, including discoloration caused by hyperpigmentation, rosacea, and melasma. Regular applying of this cream is increasing softness or smoothness. The cream helps skin strengthen and gives the complexion a more youthful and fresher appearance.
Niacinamide is a powerful natural antioxidant property, strengthens the walls of our blood vessels, and helps to slow down the processes of skin aging, improve brightness and elastin synthesis. It perfectly lightens hyperpigmentation and brown spots, supports tissue immunity, evens out skin tone, and activates the protective function of your skin.
Niacinamide and collagen are offers multiple skin benefits such as fading age spots, lightening and whitening of skin, boost hydration, reduces premature appearance of fine lines and wrinkles. Repairs and protect skin from sun damage, and reduce melanin production. The product is suitable for all skin types.
How To Use
Step - 1
After cleansing your face with warm water then pat your skin dry.
Step - 2
Apply the cream onto your skin, gently rub and lightly press your palms and pat the cream until it is fully applied to your face and neck.
Step - 3
Use in the evening, possibly followed by a moisturizer.
Caution
When using cosmetics or after use, if there are abnormal symptoms or side effects such as red spots, swelling, or itching due to direct sunlight, consult a specialist. Refrain from using on wounded areas 3 precautions for storage and handling A) Keep out reach of children B) Keep out of direct sunlight.

More Information

| | |
| --- | --- |
| Cream Type | Moisturizing Cream |
| Skin Type | All Types of Skin |
| Solution Type | Brightening / Glowing |
| Brand Name | Argan Skin Food Lab |
| Manufacturer | Argan Skin Food Lab |
| Distributed By | RT World Ltd |

Argan Skin Food Lab Melasma Spot Out Intensive Whitening Repair Cream টি কোলাজেন এবং নিয়াসিনামাইন্ড উপাদান সমৃদ্ধ এই পণ্যটি বিশেষভাবে মেছতার দাগ বা কালচে দাগ কমিয়ে আসতে সাহায্য করে, এর সাথে ত্বকে পুষ্টি সরবারহ করা, ত্বকের টান টান ভাব বাড়িয়ে দেয়, মসৃণ করে, ত্বকের রং উন্নত করে এবং ত্বকে উজ্জলতা দেওয়ার সাথে সাথে তারুণ্যময় করে তোলে। কার্যকরী উপাদান ত্বকের ক্ষত নিরাময় করে ও ত্বক উজ্জ্বল করে সার্বিক উন্নতি করে এবং ত্বকের বাহ্যিক গঠন মজবুত করে, ত্বককে মসৃণ, কোমল, নরম, দাগহীন ও পরিষ্কার ভাবে উপস্থাপন করে।
বৈশিষ্ট্য
ত্বকের উজ্জ্বলতা বৃদ্ধি করে
ত্বকে মেছতার দাগ ও হাইপারপিগমেন্টেশন কমিয়ে আনতে সাহায্য করে
দ্রুত ত্বকে প্রবেশ করে ত্বক টান টান করে
ত্বকের রং ও ময়েশ্চারাইজ স্তর উন্নত করে
সব ধরনের ত্বকের জন্য উপযোগী
রোদে পোড়ার হাত থেকে ত্বককে রক্ষা করে
কোলাজেন, এবং নিয়াসিনামাইন্ড সমৃদ্ধ
Argan Skin Food Lab Melasma Spot Out Intensive Whitening Repair Cream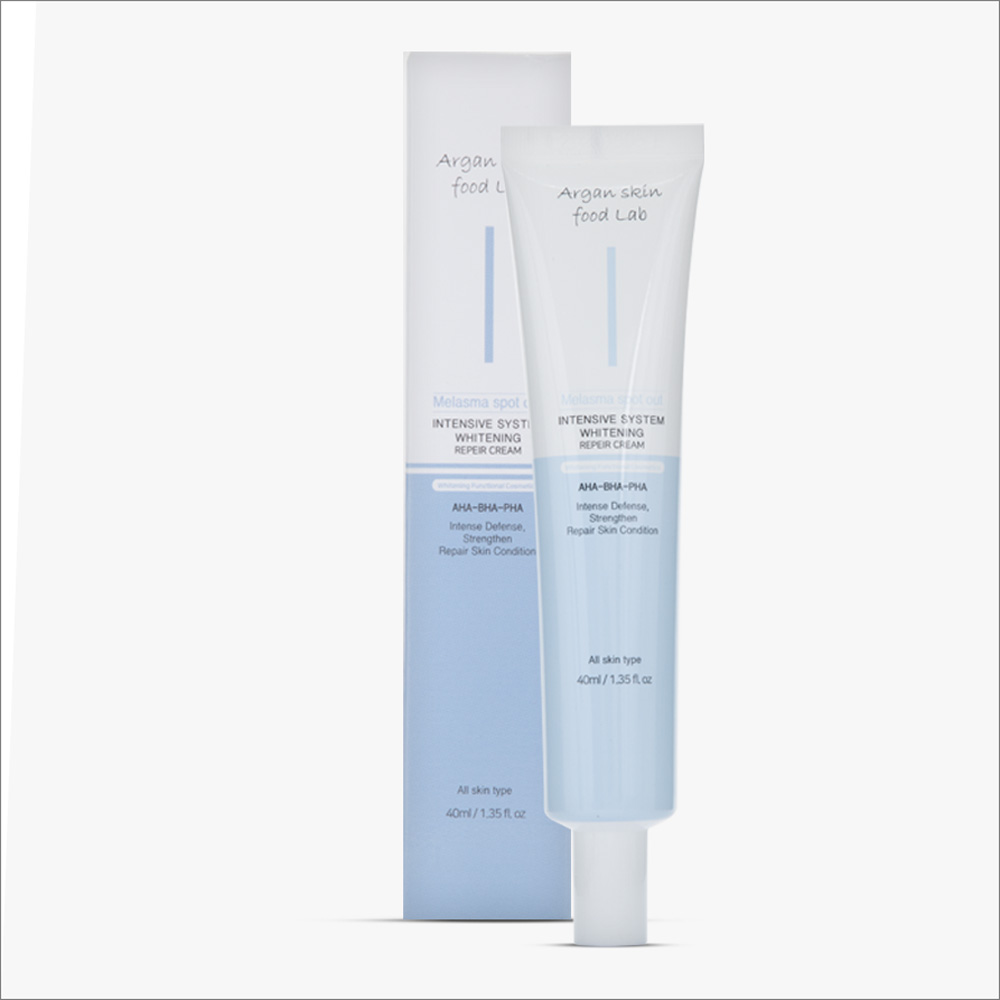 এই ক্রিমে আছে এন্টি ইনফ্লেমেটরি ও ক্ষত নিরাময় ক্ষমতা যা ত্বকের কালচে দাগ কমিয়ে আনার সাথে সাথে ত্বকের বর্ণ উজ্জ্বল করে, বিবর্ণতা, হাইপারপিগমেন্টেশন, লালচে দাগ ও মেছতা দূর করে প্রতিনিয়ত এই ক্রিম ব্যবহারের ফলে বাড়তি কোমলতা ও মসৃণতা আনে। এই ক্রিম ত্বকের কোষ মজবুত করতে ও ত্বকে তারুণ্যময় আভা বাড়িয়ে দিতে সাহায্য করে।
নিয়াসিনামাইন্ড একটি প্রাকৃতিক এন্টি অক্সিডেন্ট যা ত্বকের রক্তনালীর রক্ত সঞ্চালনকে দৃঢ় করে, বয়সের ছাপ পড়াকে ধীর গতি করে, ত্বকের উজ্জ্বলতা বৃদ্ধি করে এবং ত্বকের টান টান ভাব বাড়ায়। ত্বকের হাইপারপিগমেন্টেশন বা বাদামী দাগ অদৃশ্য করতে সাহায্য করে, টিস্যুর ইমিউনিটি ক্ষমতা বাড়ায়, ত্বকের রং উন্নত করে এবং ত্বকের অন্যান্য কোষের কার্য ক্ষমতা বৃদ্ধি করে।
এই ক্রিমে থাকা কোলাজেন, এবং নিয়াসিনামাইন্ড মাল্টিস্টাকিং উপাদান যা ত্বকের কালচে দাগ দূর করে, ত্বক ফর্সা ও উজ্জ্বল করে, ত্বকের হাইড্রেশন বুস্ট করে এবং অসময়ে বয়সের ছাপ, রেখা বা ভাঁজ পড়তে দেয় না। রোদে পোড়া থেকে ত্বককে রক্ষা করে এবং মেলানিন উৎপাদন নিয়ন্ত্রণ করে। সব ধরনের ত্বকের জন্য উপযোগী।
ব্যবহারবিধি
প্রথম ধাপ
ক্রিম লাগানোর আগে মুখ ভালো করে ফেস ওয়াশ দিয়ে ধুয়ে পরিষ্কার তোয়ালে দিয়ে শুকিয়ে নিতে হবে।
দ্বিতীয় ধাপ
মুখ শুকানোর পর প্রয়োজন মতো ক্রিম নিয়ে পুরো মুখে এবং গলায় হালকাভাবে ম্যাসাজ করে লাগাতে হবে।
তৃতীয় ধাপ
রাতে এই ক্রিমটি ব্যবহার করা যাবে। এছাড়া ময়েশ্চারাইজারের মতো এটি ব্যবহার করতে পারবেন।
সতর্কতা
পণ্যটি ব্যবহারের পর ত্বকে কোন ধরনের অস্বস্তি অনুভূতি বা পার্শ্বপ্রতিক্রিয়া দেখা দিলে, সূর্যের তাপে লালচে দাগ হয়ে থাকলে বা ফুলে গেলে, চুলকনি দেখা দিলে দ্রুত চিকিৎসকের পরামর্শ নিন। এই পণ্য ব্যবহারের আগে ৩ টি সর্তকতা অনুসরণ করতে হবে। ১) শিশুদের হাতের নাগালের বাইরে রাখুন ২) সরাসরি সূর্যের আলো পড়ে এমন স্থানে রাখা যাবে না।

ইনবক্স এ মেসেজ করার পরিবর্তে, সরাসরি আমাদের App অথবা Website এ অর্ডার করলে পণ্য পাওয়ার নিশ্চয়তা বেশি থাকে। কারন, আপনার মেসেজটি আমাদের এজেন্ট পড়ার পূর্বে অন্য ক্রেতা App অথবা Website থেকে কিনে স্টক আউট করে দিতে পারে।
বাংলাশপার্স সবসময় সঠিক স্টক ওয়েবসাইট এ আপডেট করে থাকার চেষ্টা করে। এর পরেও যে কোনো কারণে ওয়েবসাইট এ পণ্যটির সঠিক স্টক আপডেট করা না থাকলে আমরা আপনাকে দ্রুত কল করে জানিয়ে দিবো যেন আপনি আপনার ডেলিভারি সম্পর্কে দ্রুত সিদ্ধান্ত নিতে পারেন।
তাই অতি জরুরী অবস্থার প্রেক্ষিতে অনুগ্রহ করে আমাদের আগে কল করে নিশ্চিত হউন পণ্য টি এখনো স্টক এ আছে কিনা। অন্যথায় কোনো কারণে ডেলিভারি বিলম্ব হলে আমরা দায়ী থাকবো না।
মোবাইল ভার্সন - https://www.youtube.com/watch?v=EfEFMpwEttI