Clean & Clear Blackhead Clearing Cleanser - 200ml
Special Price
TK 750.00
Regular Price
TK 950.00
Stock:
Sold out Online but available at store!

Clean and Clear blackhead clearing cleanser is formulated to start acting against blackheads from day 1. This cleanser is contain a blackhead fighting ingredient, and when used daily, helps prevent blackheads from forming. A lightweight gel that transforms into a fluffy lather, it whisks away dirt, oil, leftover makeup and wakes up tired complexions and leaves you feeling fresh.
Features
Helps prevent blackheads from coming back
Takes away all the dirt, excess oil and pollution
Provides skin moisturization and nutrients
Minimize the appearance of pores
Super refreshing and Soothes skin
Leave skin hydrated and non-shiny
Balance the skin pH level
Doesn't strip the skin's natural oils
Clean & Clear Blackhead Clearing Cleanser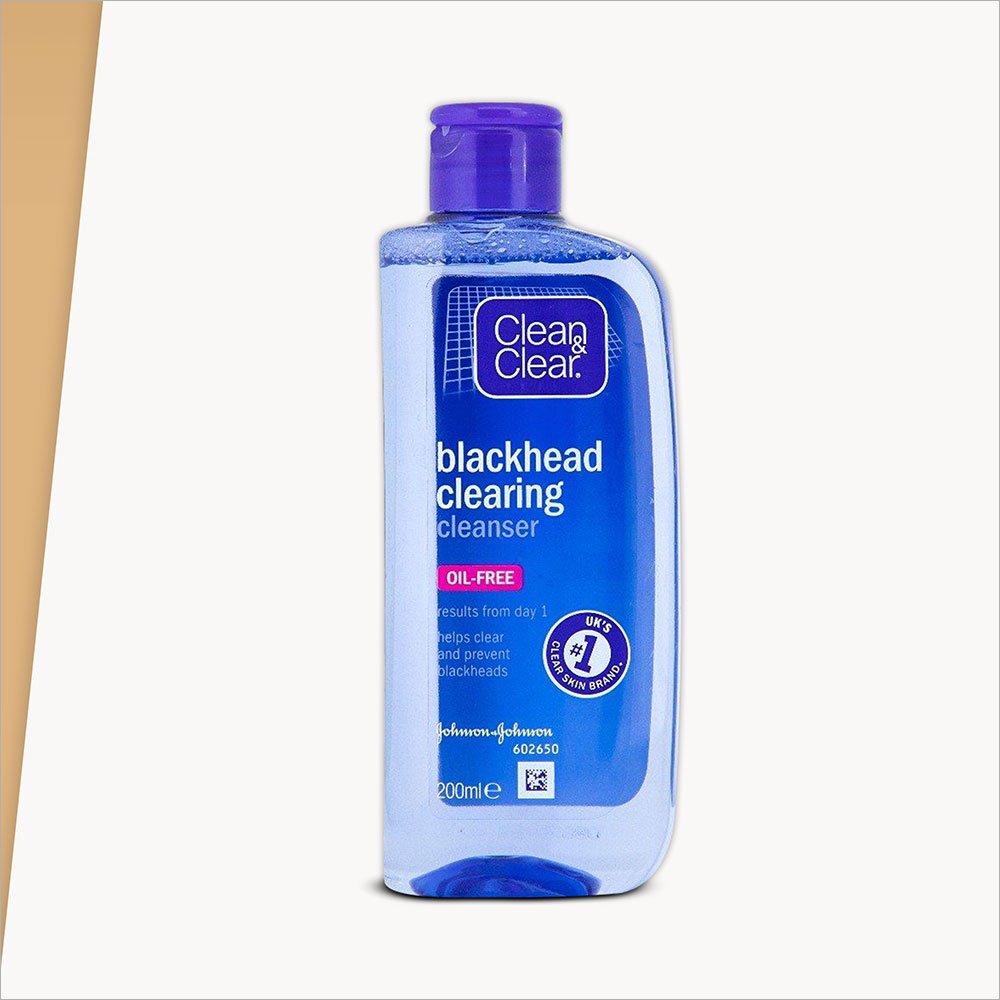 This foam cleanser is best used for those with blackheads, as well as for those with acne. For those with oily or acne-prone skin, this face wash to help with inflammation as it is anti-bacterial. A refreshing lather face wash is enriched with blackhead fighting ingredient to help for treating blackhead because of its anti-inflammatory and antimicrobial properties, it removes impurities and excess oil, leaving skin feeling purified and provide your skin flawless and retains freshness.
The powerful combination of the active ingredients makes this product specially to calm redness, swelling, and inflammation. It is a beauty product that cleanses the skin, helping to temporarily minimize the appearance of pores, create a smoother looking appearance and removes impurities from the skin pores.
Its gentle hypoallergenic formula balances the skin's pH levels and doesn't strip the skin's natural oils, gives a prominent skin tightening and pore-minimizing effect. Use daily for less shiny, mattified, visible clearer results.
How To Use
Step - 1
At first wet your face with plenty of warm water or can splash water or moisten a towel and use that to wet your skin.
Step - 2
Use a dime-sized amount of washing foam. Apply it to your face in a circular motion, making sure each spot gets covered. Keep massaging in a circular motion for few seconds.
Step - 3
Rinse off with warm water and use a soft towel to pat your face dry.

More Information

| | |
| --- | --- |
| Solution Type | Blackheads Control |
| Brand Name | Clean & Clear |
| Manufacturer | Clean & Clear |
| Country of Manufacture | Italy |
| Distributed By | RT World Ltd |

Clean and Clear blackhead clearing cleanser বিশেষ ফর্মুলা ব্যবহারের প্রথম দিন থেকেই ত্বকের পোরসের গভীরে আটকে থাকা ব্ল্যাকহেডস দূর করে। এই ক্লিনজার ব্ল্যাকহেডস দূর উপাদান সমৃদ্ধ জার ফেনা খুব দ্রুত ত্বকের ব্ল্যাকহেডস দূর করতে সাহায্য করে। খুব হালকা টেক্সচারের এই ক্লিনজার সহজে ফেনা তৈরি করে, ময়লা, তেল, মেকাপ দূর করে ত্বকের বর্ণ উন্নত করে ত্বকে সতেজ ভাব আনে।
বৈশিষ্ট্য
ব্ল্যাকহেডস দূর করার জন্য সবচেয়ে কার্যকরী
ত্বকের মধ্যে থাকা ময়লা, অতিরিক্ত তেল ও দূষণ দূর করে
ত্বকে পুষ্টি সরবারহ করে ময়েশ্চারাইজ করে
পোরসের আকার বড় হলে তা ছোট করে আনতে সাহায্য করে
ত্বকের সজীবতা ও শীতলকরণ অনুভূতি দেয়
ত্বককে হাইড্রেড ও কম চকচকে দেখায়
ত্বকের pH লেভেল ভারসাম্য রাখে
ত্বকের তৈলাক্ত ভাব কমিয়ে আনে
Clean & Clear Blackhead Clearing Cleanser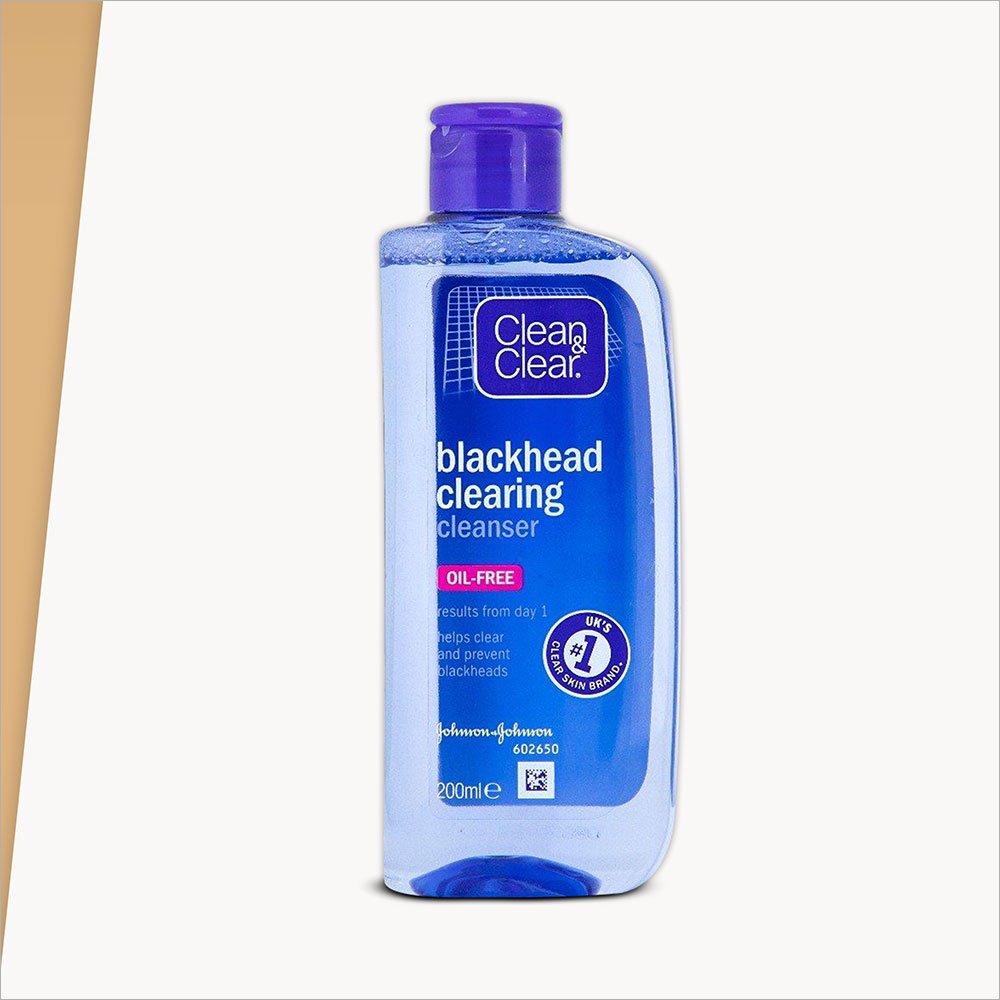 এই ক্লিনজার ব্ল্যাকহেডস দূর করার সাথে সাথে একনি সমস্যারও সমাধান করে। তৈলাক্ত ও একনিপ্রবণ ত্বকের জন্য আদর্শ একটি ক্লিনযার যা এন্টি ব্যাকটেরিয়াল ক্ষমতা ত্বকের মৃত কোষ পরিস্কারের কাজ করে । তাৎক্ষনিক ফেনা উৎপন্নকারী এই ফেশ ওয়াশ ব্ল্যাকহেডসের বিরুদ্ধে এন্টি ইনফ্লেমেটরি ও এন্টি মাইক্রোবিয়াল কাজ করে, ত্বকের ভিতরে থাকা ব্ল্যাকহেডস, ময়লা, অতিরিক্ত তেল দূর করে, দূষণ থেকে ত্বককে রক্ষা করে ত্বককে নিখুঁত ও সতেজ করে তোলে।
এছাড়া অন্যান্য শক্তিশালী উপাদানের সমন্বয় ত্বকের লালচে ভাব, ফোলা ভাব ও একনির দাগ কনিয়ে আনতে সাহায্য করে। এই ফেস ওয়াশ ত্বককে পরিষ্কার করে, ত্বকের পোরসের আকার ছোট করে আনে, ত্বকে মসৃণতা আনে, পুনরায় ব্ল্যাকহেডস হওয়ার সম্ভাবনা কমিয়ে আনে এবং জীবাণু ও ময়লা পোরস থেকে তুলে আনতে সাহায্য করে।
এটি একটি কার্যকরী হাইপোলোর্জিক ফর্মুলা যা ত্বকের pH লেভেল ভারসাম্য রাখে, ত্বকের ওয়েল ব্যালেন্সের তারতম্য হয় না, ত্বকে লক্ষণীয় দৃঢ়তা ও টান টান ভাব আনে। প্রতিদিন ব্যবহারে ত্বক হয়ে ওঠে দীপ্তিময়, ম্যাট ও দৃশ্যমান পরিষ্কার।
ব্যবহারবিধি
প্রথম ধাপ
প্রথমে হালকা কুসুম গরম পানি দিয়ে মুখে জাপটা দিয়ে ধুয়ে নিতে হবে অথবা ভেজা তোয়েলা দিয়ে মুখ ভিজিয়ে নিতে পারবেন।
দ্বিতীয় ধাপ
১ পাম্প পরিমান হাতে নিয়ে বৃত্তাকারভাবে পুরো মুখে ফেনা তৈরি হওয়া পর্যন্ত ম্যাসাজ করতে হবে। খেয়াল রাখতে হবে কপালে, গালে, নাকে এবং থুতনিতে বা মুখের যে অংশে দাগ আছে তা যেন ভালো ভাবে ম্যাসাজ করা হয়।
তৃতীয় ধাপ
হালকা কুসুম গরম পানি দিয়ে মুখ ধুয়ে নিয়ে নরম তোয়েলা দিয়ে মুখ মুছে নিবেন। ভালো ফলাফল পাওয়ার জন্য দিনে দুবার ব্যবহার করা যাবে।

ইনবক্স এ মেসেজ করার পরিবর্তে, সরাসরি আমাদের App অথবা Website এ অর্ডার করলে পণ্য পাওয়ার নিশ্চয়তা বেশি থাকে। কারন, আপনার মেসেজটি আমাদের এজেন্ট পড়ার পূর্বে অন্য ক্রেতা App অথবা Website থেকে কিনে স্টক আউট করে দিতে পারে।
বাংলাশপার্স সবসময় সঠিক স্টক ওয়েবসাইট এ আপডেট করে থাকার চেষ্টা করে। এর পরেও যে কোনো কারণে ওয়েবসাইট এ পণ্যটির সঠিক স্টক আপডেট করা না থাকলে আমরা আপনাকে দ্রুত কল করে জানিয়ে দিবো যেন আপনি আপনার ডেলিভারি সম্পর্কে দ্রুত সিদ্ধান্ত নিতে পারেন।
তাই অতি জরুরী অবস্থার প্রেক্ষিতে অনুগ্রহ করে আমাদের আগে কল করে নিশ্চিত হউন পণ্য টি এখনো স্টক এ আছে কিনা। অন্যথায় কোনো কারণে ডেলিভারি বিলম্ব হলে আমরা দায়ী থাকবো না।
মোবাইল ভার্সন - https://www.youtube.com/watch?v=EfEFMpwEttI