Nature Republic Fresh Herb Acerola Cleansing Foam - 170ml
Special Price
TK 600.00
Regular Price
TK 680.00
Ingredients: Purified water, glycerin, stearic acid, mystic acid, potassium hydroxide, lauric acid, glyceryl stearate, stearate, sodium laureth sulfate, lauramid die, acerola extract, ylang-ylang flower extract, lemon verbena Leaf Extract, Lavender Blossom, Rosemary Leaf Extract, Apple Mint Leaf Extract, Chamomile Blossom, Peppermint Leaf Extract, Hibiscus Flower Extract, Jasmine Blossom, Sage Leaf Extract, Cocamidopropyl Betaine, TAI-Lauryl Sulfate, Potassium Cocoate, Potassium Coco Iglycinate, butylene glycol, citric acid

This Fresh Herb Acerola Cleansing foam contains vitamin C and acerola extract that product provides daily cleansing of the skin as it purifies skin; removes dirt, makeup residue and other impurities. Nature Herb Acerola Cleansing Foam leaves complexions clean, clear, and hydrated. The Acerola Filtrate cleansing foam gently cleanses the skin without abrasive particles, leaving skin softened and feeling refreshed.
Features
A mild foam cleanser and smells great
Creamy consistency and lathers very well
Cleanses the skin and does not dry out
Removes all the oil, makeup and dirt properly
Deeply cleanses and moisturizes the skin
Special treats for acne and blemishes
Washing Foam with acerola cherry extract
Provide gentle exfoliation
Improve natural skin tone and smoothness
Nature Republic Fresh Herb Acerola Cleansing Foam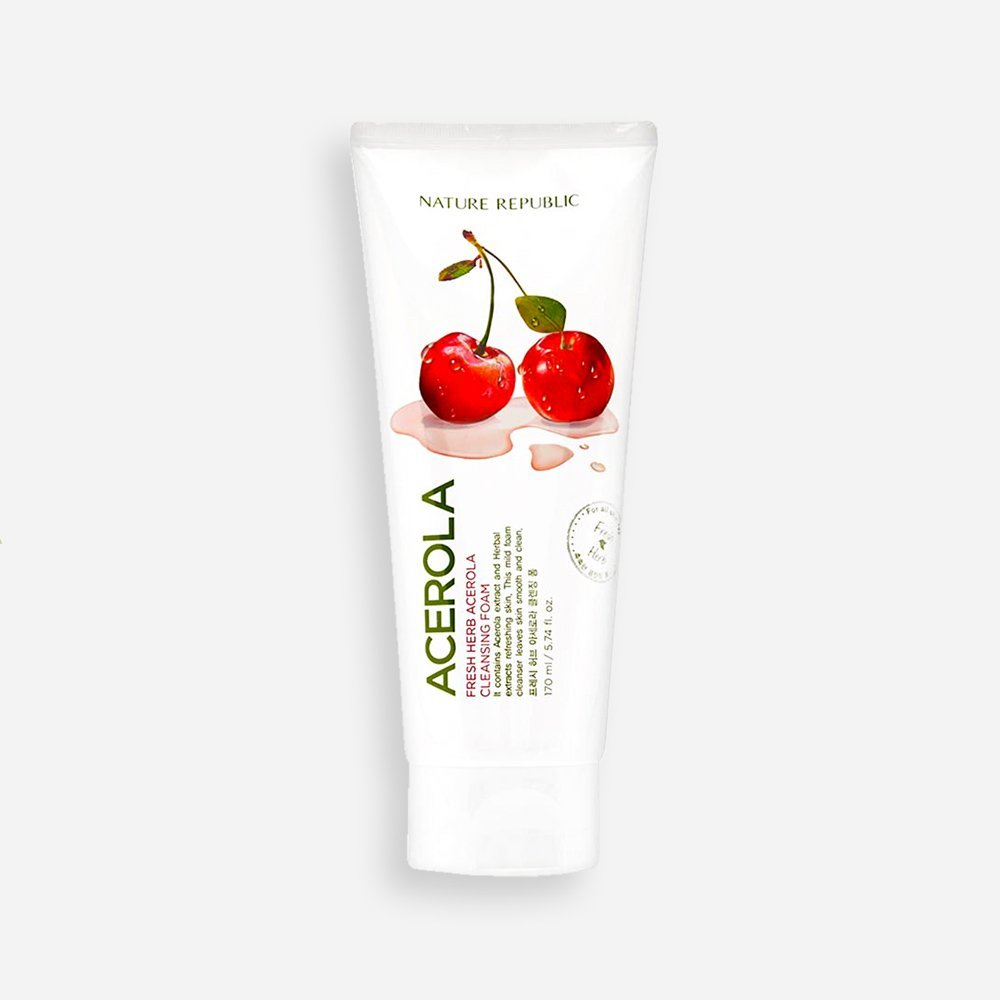 The Cleansing foam rich in vitamin C and contains acerola extract gently cleanses the skin. Without harmful ingredients, it is extremely beneficial to those with irritated and acne-prone skin, nor tighten the skin and leaves the skin softened and refreshed. The vitamin C and contains acerola extract nourishes and protects the skin from environmental dirt's and toxins. The skin becomes visibly brighter and refreshed.
10 fresh herbal ingredients keep you moisturized and full of antioxidants and vitamin C, acerola cherry extract eliminates free radicals and boosts collagen production for younger-looking skin that retains firmness and elasticity. The claimed benefits of acerola extract cleansing from fixing sun damage, spots to smoothing out fine lines and wrinkles and even acne-scars that refresh your complexion, this cleanser has also ability in promoting the production of elastin and collagen in our skin.
Features 10 fresh herbal ingredients which is excellent moisturizing properties help protect your skin after cleansing; won't leave a tight or dry feeling. Gently exfoliates skin to remove dead skin cells and stimulate the natural regeneration of cells.
How To Use
Step - 1
At first wet your face with plenty of warm water or can splash water or moisten a towel and use that to wet your skin.
Step - 2
Use a dime-sized amount of washing foam. Apply it to your face in a circular motion, making sure each spot gets covered. Keep massaging in a circular motion for few seconds.
Step - 3
Rinse off with warm water and use a soft towel to pat your face dry.
Ingredients
Purified water, glycerin, stearic acid, mystic acid, potassium hydroxide, lauric acid, glyceryl stearate, stearate, sodium laureth sulfate, lauramid die, acerola extract, ylang-ylang flower extract, lemon verbena Leaf Extract, Lavender Blossom, Rosemary Leaf Extract, Apple Mint Leaf Extract, Chamomile Blossom, Peppermint Leaf Extract, Hibiscus Flower Extract, Jasmine Blossom, Sage Leaf Extract, Cocamidopropyl Betaine, TAI-Lauryl Sulfate, Potassium Cocoate, Potassium Coco Iglycinate, butylene glycol, citric acid

More Information

| | |
| --- | --- |
| Skin Type | All Types of Skin |
| Solution Type | Deep Cleaning |
| Brand Name | Nature Republic |
| Manufacturer | Nature Republic |
| Distributed By | Belaface Limited |

Fresh Herb Acerola Cleansing foam টি ভিটামিন সি এবং এসেরোলা নির্যাস সমৃদ্ধ যা প্রতিদিনের ত্বক পরিস্কারক হিসেবে বিশেষ কাজ করে, ত্বকের ময়লা, মেকাপ ও অন্যান্য জীবাণু ধ্বংস করে। Herb Acerola Cleansing foam ত্বককে পরিষ্কার ও হাইড্রেড করে। Herb Acerola Cleansing foam ত্বকের কোষের ভিতরে থাকা প্রতিটি অংশকে বিশুদ্ধ করে আনে এবং ত্বককে করে নরম ও সজীব।
বৈশিষ্ট্য
মৃদু ক্লিনজার ও হালকা সুগন্ধ আছে
ক্রিমি টেক্সচার ও খুব সহজে ফেনা তৈরি করে
ত্বককে শুষ্ক না করে ত্বক পরিষ্কার করে
ত্বকের তেল, মেকাপ ও ময়লা তুলে আনে
ত্বকের গভীরে গিয়ে পরিষ্কার ও ময়েশ্চারাইজ করে
একনি ও দাগযুক্ত ত্বকে বিশেষভাবে কাজ করে
এই ওয়াশিং ফোমটি এসেরোলা চেরি নির্যাস সমৃদ্ধ
ত্বকের এক্সফোলিয়েট হিসেবে কাজ করে
ত্বকের স্বাভাবিক বর্ণ ও মসৃণতা উন্নত করে
Nature Republic Fresh Herb Acerola Cleansing Foam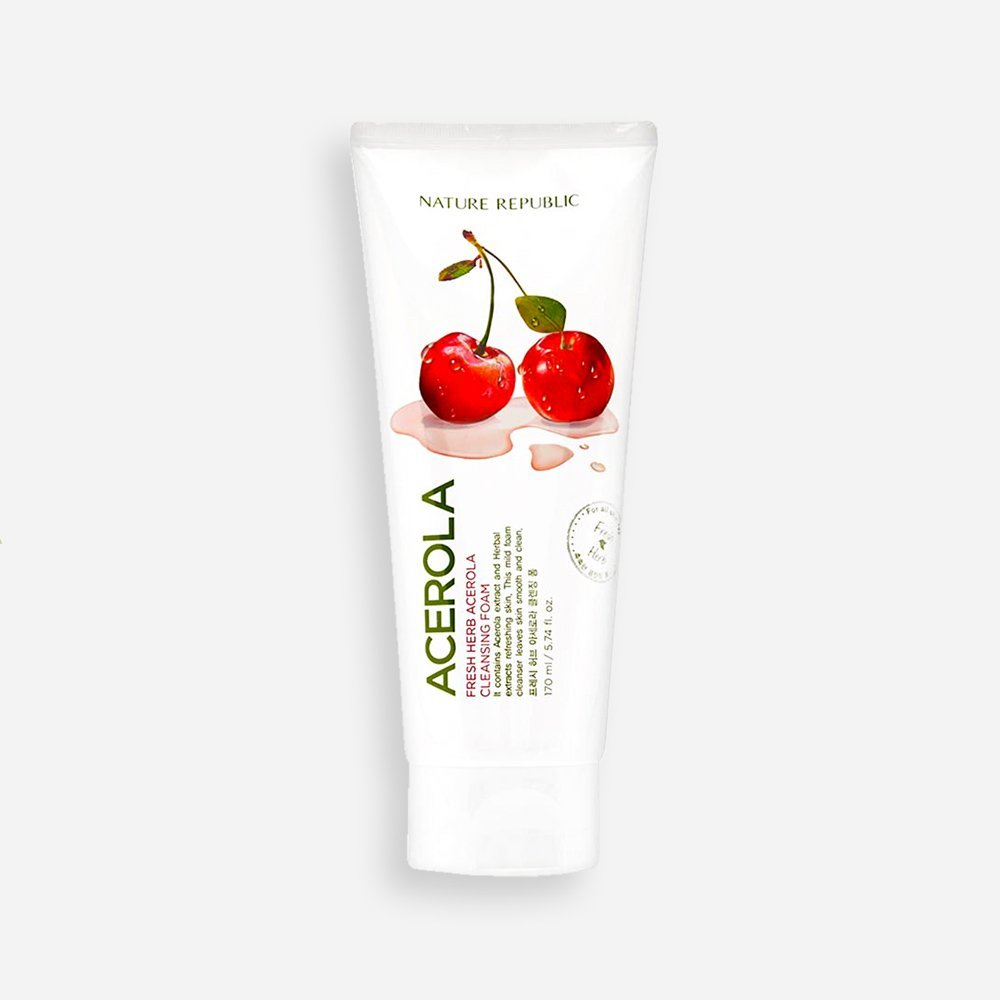 এই ক্লিনজারে আছে ভিটামিন সি এবং এসেরোলা চেরি নির্যাস যা ত্বককে গভীর থেকে পরিষ্কার করে। কোন ধরনের ক্ষতিকারক উপাদান নেই, ত্বকের অস্বস্তিভাব কমিয়ে নিয়ে আসে এবং একনিপ্রবণ ত্বককে টান টান করে, একনি প্রবণতা কমিয়ে দেয় এবং ত্বককে কোমল ও সজীব করে। ভিটামিন সি এবং এসেরোলা চেরি নির্যাস ত্বকে পুষ্টি যোগায় বাইরের ক্ষতিকর পরিবেশ থেকে ত্বককে রক্ষা করে। ত্বকের উজ্জ্বলতা ও সজীবতা বাড়িয়ে তোলে।
১০ টি ভেষজ উপাদান ত্বককে ময়েশ্চারাইজ করে, ভিটামিন সি এর এন্টি অক্সিডেন্ট এসেরোলা চেরি নির্যাস ত্বককে ক্ষতিকর রশ্মি থেকে রক্ষা করে এবং ত্বকের কোলাজেন উৎপাদন নিয়ন্ত্রণ করে ত্বককে ফর্সা ও টান টান করে। এসেরোলা চেরি নির্যাস ত্বকের রোদে পোড়া দাগ, কালো দাগ দরিয়ে ত্বককে মসৃণ করে এবং বয়সের বলিরেখা পড়তে দেয় না । ত্বকের একনি প্রবণতা কমিয়ে আনে এবং ত্বকে সজীবতা প্রদান করে। ত্বকের টান টান ভাব বাড়িয়ে ত্বককে তারুণ্যদীপ্ত করে।
১০ টি ভেষজ উপাদান ত্বককে ময়েশ্চারাইজ করে ত্বককে সুরক্ষা প্রদান করে এবং ত্বক অতিরিক্ত শুষ্ক ও রুক্ষ হতে দেয় না। ত্বকের এক্সফোলিয়েশন ঘটিয়ে ত্বকের মৃত কোষ ও ত্বকের কোষ পুনর্গঠনে সাহায্য করে।
ব্যবহারবিধি
প্রথম ধাপ
প্রথমে হালকা কুসুম গরম পানি দিয়ে মুখে জাপটা দিয়ে ধুয়ে নিতে হবে অথবা ভেজা তোয়েলা দিয়ে মুখ ভিজিয়ে নিতে পারবেন।
দ্বিতীয় ধাপ
১ পাম্প পরিমান হাতে নিয়ে বৃত্তাকারভাবে পুরো মুখে ফেনা তৈরি হওয়া পর্যন্ত ম্যাসাজ করতে হবে। খেয়াল রাখতে হবে কপালে, গালে, নাকে এবং থুতনিতে বা মুখের যে অংশে দাগ আছে তা যেন ভালো ভাবে ম্যাসাজ করা হয়।
তৃতীয় ধাপ
হালকা কুসুম গরম পানি দিয়ে মুখ ধুয়ে নিয়ে নরম তোয়েলা দিয়ে মুখ মুছে নিবেন। ভালো ফলাফল পাওয়ার জন্য দিনে দুবার ব্যবহার করা যাবে।
উপকরণ
Purified water, glycerin, stearic acid, mystic acid, potassium hydroxide, lauric acid, glyceryl stearate, stearate, sodium laureth sulfate, lauramid die, acerola extract, ylang-ylang flower extract, lemon verbena Leaf Extract, Lavender Blossom, Rosemary Leaf Extract, Apple Mint Leaf Extract, Chamomile Blossom, Peppermint Leaf Extract, Hibiscus Flower Extract, Jasmine Blossom, Sage Leaf Extract, Cocamidopropyl Betaine, TAI-Lauryl Sulfate, Potassium Cocoate, Potassium Coco Iglycinate, butylene glycol, citric acid

ইনবক্স এ মেসেজ করার পরিবর্তে, সরাসরি আমাদের App অথবা Website এ অর্ডার করলে পণ্য পাওয়ার নিশ্চয়তা বেশি থাকে। কারন, আপনার মেসেজটি আমাদের এজেন্ট পড়ার পূর্বে অন্য ক্রেতা App অথবা Website থেকে কিনে স্টক আউট করে দিতে পারে।
বাংলাশপার্স সবসময় সঠিক স্টক ওয়েবসাইট এ আপডেট করে থাকার চেষ্টা করে। এর পরেও যে কোনো কারণে ওয়েবসাইট এ পণ্যটির সঠিক স্টক আপডেট করা না থাকলে আমরা আপনাকে দ্রুত কল করে জানিয়ে দিবো যেন আপনি আপনার ডেলিভারি সম্পর্কে দ্রুত সিদ্ধান্ত নিতে পারেন।
তাই অতি জরুরী অবস্থার প্রেক্ষিতে অনুগ্রহ করে আমাদের আগে কল করে নিশ্চিত হউন পণ্য টি এখনো স্টক এ আছে কিনা। অন্যথায় কোনো কারণে ডেলিভারি বিলম্ব হলে আমরা দায়ী থাকবো না।
মোবাইল ভার্সন - https://www.youtube.com/watch?v=EfEFMpwEttI