Nature Republic Real Nature Tea Tree Sheet Mask - 23ml
Special Price
TK 115.00
Regular Price
TK 150.00
Ingredients: Water, Glycerin, Dipropylene Glycol, Alcohol, Hydroxyethylcellulose, Butylene Glycol, 1,2-Hexanediol, Paeonia Suffruticosa Root Extract, Centella Asiatica Extract, PEG-60 Hydrogenated Castor Oil, Trehalose, Chamomilla Recutita (Matricaria) Flower Extract, Cucumis Sativus (Cucumber) Fruit Extract, Glyceryl Caprylate, Arginine, Carbomer, Ethylhexylglycerin, Sodium Hyaluronate, Glyceryl Acrylate/Acrylic Acid Copolymer, Pvm/Ma Copolymer, Lavandula Angustifolia (Lavender) Extract, Melissa Officinalis Leaf Extract, Origanum Vulgare Leaf Extract, Pelargonium Graveolens Extract, Eucalyptus Globulus Leaf Extract, Melaleuca Alternifolia (Tea Tree) Leaf Extract, Mentha Piperita (Peppermint) Leaf Extract, Disodium EDTA, Fragrance, Benzyl Benzoate

A thicker, gel-like texture a soothing hydrating sheet mask made with South African tea tree leaf extract and tea tree oil extracts refreshes our skin for a supple and hydrating feeling that penetrate the skin more deeply and for longer periods of time. This sheet masks help in controlling oil secretion, minimize pores, removes dirt and prevents breakouts. It also reduces acne prone skin irritation and inflammation.
Features
A great natural UV protector
Skin looks radiant and healthy
Contains with South African tea tree leaf extract and tea tree oil extracts
Reducing inflammation and healing acne
No visible fine lines or wrinkles
Fight the appearance of dark spots and sunburn
Suitable for all skin types
Nature Republic Real Nature Tea Tree Sheet Mask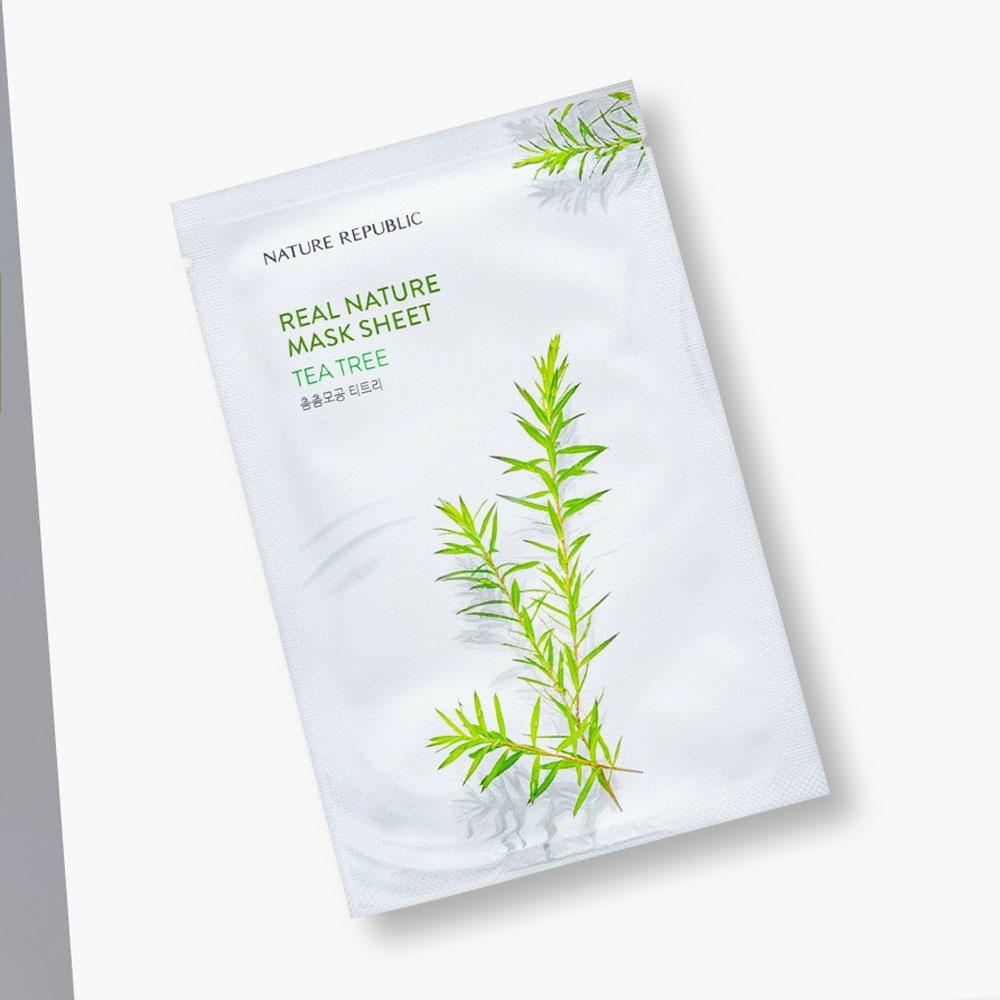 This Tea Tree sheet mask rejuvenates and firms dry, tired, irritated skin, hydrating and softening with its antioxidant, anti-inflammatory and anti-bacterial properties. This mask helps to get rid of dull, rough skin and promotes cellular renewal, this mask repairs and cools, stimulating a healthy, radiant complexion. It has been dermatologically-tested and is free from parabens, dyes and gluten. Cruelty-free.
As a natural astringent, tea tree extracts keeps the skin firm and helps diminish fine lines. Green Tea tree oil extracts also helps to shrink large pores and brightens up your complexion. Tea tree oil extracts is a powerful natural ingredient –for its healing properties, to give a radiant glow, smoothness and especially suited for dry or sensitive skin.
This Moisturizing sheet mask is designed to hug every contour of your face, locking in all of its moisturizing ingredients so skin feels supremely hydrated and smooth. Tea tree oil has antioxidants, anti-inflammatory and antibacterial properties is great for reducing pores and blackheads. Your dry, tight complexion will be plumped and soothed with nourishing and repairing extracts of green tea.
How To Use
Step - 1: Cleanse
First cleanse the skin properly and pat your skin dry.
Step-2: Mask Setting
Gently unfold the mask and carefully place it over cleansed skin. Smooth out and press into contours. Leave it for 20-25 minutes and relax.
Step-3: Remove
After 20-25 minutes gently remove the masks by carefully peeling them away from the edges. Rub in excess serum.
Cautions
For external use only. Avoid using around the eye area. Do not apply on a scar or any area of skin irritation, such as dermatitis and eczema. If the following symptoms appear after using the product, stop using it. If the symptoms worsen, consult a dermatologist. Red blotches, swellings, itchiness or irritation while using the product. If the above symptoms appear when the skin is exposed to direct sunlight after using the product. Cautions about handling and storing the product Keep the product closed after using it.
Keep the product out of the reach of children/babies. If they swallow it, consult a doctor.
Avoid extremely high and low temperatures and direct sunlight. Immediately use it after opening. Not to be dried and do not use twice.
Ingredients
Water, Glycerin, Dipropylene Glycol, Alcohol, Hydroxyethylcellulose, Butylene Glycol, 1,2-Hexanediol, Paeonia Suffruticosa Root Extract, Centella Asiatica Extract, PEG-60 Hydrogenated Castor Oil, Trehalose, Chamomilla Recutita (Matricaria) Flower Extract, Cucumis Sativus (Cucumber) Fruit Extract, Glyceryl Caprylate, Arginine, Carbomer, Ethylhexylglycerin, Sodium Hyaluronate, Glyceryl Acrylate/Acrylic Acid Copolymer, Pvm/Ma Copolymer, Lavandula Angustifolia (Lavender) Extract, Melissa Officinalis Leaf Extract, Origanum Vulgare Leaf Extract, Pelargonium Graveolens Extract, Eucalyptus Globulus Leaf Extract, Melaleuca Alternifolia (Tea Tree) Leaf Extract, Mentha Piperita (Peppermint) Leaf Extract, Disodium EDTA, Fragrance, Benzyl Benzoate

More Information

| | |
| --- | --- |
| Skin Type | All Types of Skin |
| Solution Type | Unassigned |
| Brand Name | Nature Republic |
| Manufacturer | Nature Republic |
| Distributed By | Belaface Limited |

দক্ষিণ আফ্রিকার চা গাছের পাতার নির্যাস এবং চা গাছের তেলের নির্যাস সমৃদ্ধ শিট মাস্ক খুব ঘন, জেল টেক্সচারের যার শক্তিশালী উপাদান ত্বকের গভীরে প্রবেশ করে ত্বককে দীর্ঘসময়ের জন্য হাইড্রেড ও সজীব করে ত্বকের কোমলতা বাড়িয়ে দেয় এবং এর উপাদানগুলো ত্বকের গভীরে প্রবেশ করতে পারে খুব সহজেই। এই শিট মাস্কে আছে ত্বকের তৈলাক্ত ভাব দূর করার ক্ষমতা, পোরস সংকুচিত করে, ময়লা, জীবাণু পরিষ্কার করে ব্রেকআউটসকে প্রতিহত করে। ত্বকের ইনফ্লেমেশন ঘটিয়ে ত্বকের অস্বস্তিভাব দূর করে।
বৈশিষ্ট্য
ক্ষতিকর UV রশ্মি থেকে ত্বককে সুরক্ষা দেয়
ত্বককে উজ্জ্বল ও স্বাস্থ্যকর দেখায়
দক্ষিণ আফ্রিকার চা গাছের পাতার নির্যাস এবং চা গাছের তেলের নির্যাস সমৃদ্ধ
ত্বকের ইনফ্লেমেশন কমিয়ে একনির ক্ষত নিরাময় করে
বয়সের ছাপ ও বলিরেখা পড়তে দেয় না
কালো দাগ ও রোদে পোড়া দাগ দূর করে
সব ধরনের ত্বকের জন্য উপযোগী
Nature Republic Real Nature Tea Tree Sheet Mask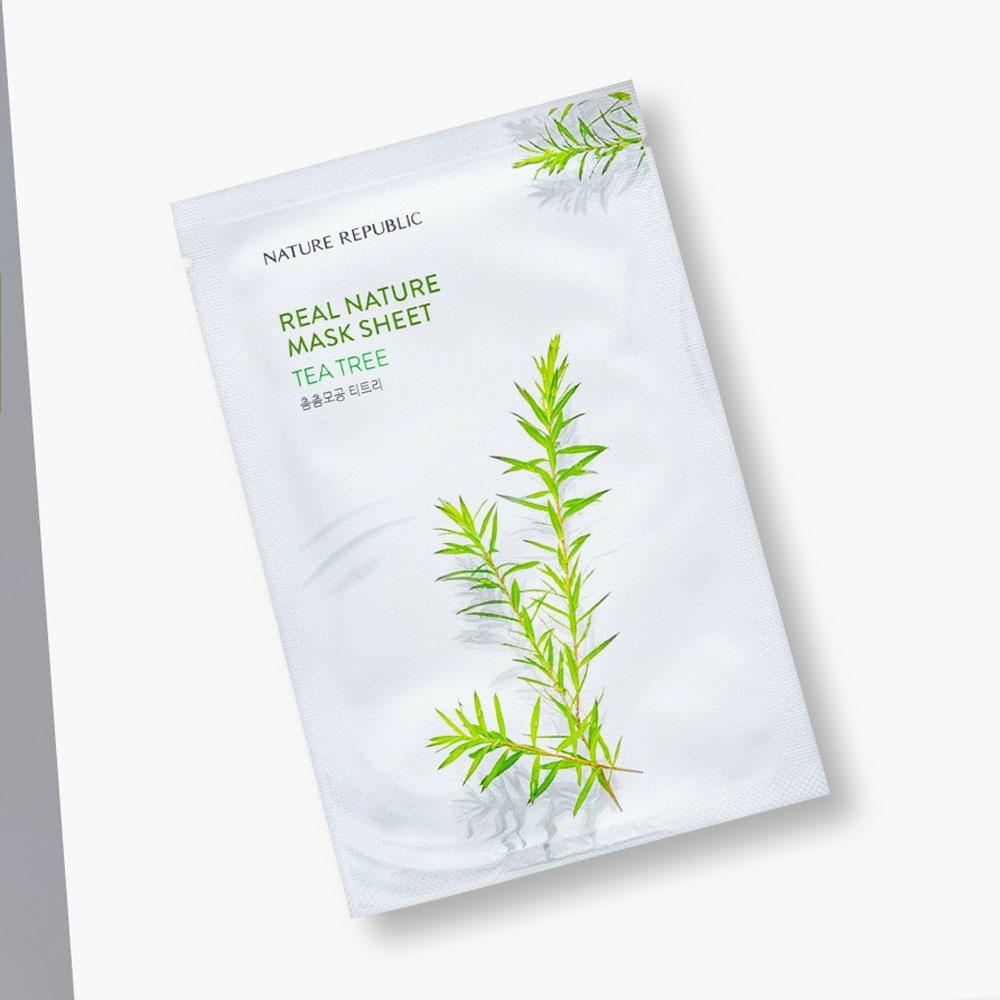 এই ময়েশ্চারাইজিং টি ট্রি শিট মাস্ক ত্বকের কোষের পুনর্গঠন করে ত্বককে শুভ্র করে, ত্বকের অস্বস্তিভাব কমায়, ত্বককে হাইড্রেড ও নরম করে। এই মাস্ক মূলত ত্বকের মলিনতা, রুক্ষতা দূর করে ত্বকের কোষের কার্য ক্ষমতা বাড়িয়ে দেয়। ত্বককে পুনর্গঠন ও শীতল করে, ত্বককে স্বাস্থ্যকর ও ত্বকের স্বাভাবিক উজ্জ্বলতা বাড়িয়ে দেয়। ত্বক বিশেষজ্ঞ দ্বারা পরীক্ষিত, ক্ষতিকর উপাদান, প্যারাবেন ও গ্লুটেন মুক্ত।
এর প্রাকৃতিক উদ্দীপনার ক্ষমতা ত্বককে ফর্সা করে এবং বয়সের বলিরেখা সহজে পড়তে দেয় না। চা গাছের পাতার নির্যাস ত্বকের টান টান ভাব বৃদ্ধি করে এবং উজ্জ্বলতা বাড়ায়। চা গাছের পাতার নির্যাসে আছে শক্তিশালী গুনাগুন, বিশেষভাবে শুষ্ক ও সেন্সেটিভ ত্বকের জন্য আদর্শ এবং ত্বককে মসৃণ করার সাথে সাথে উজ্জ্বলতা বৃদ্ধি করে।
এই ময়েশ্চারাইজিং টি ট্রি শিট মাস্ক ত্বকের গভীরে প্রবেশ করে ত্বকের ময়েশ্চারাইজ লক করে রাখে যার ফলে ত্বক হয়ে কোমল, মসৃণ ও হাইড্রেড। এই মাস্কে থাকা চা গাছের পাতার নির্যাস ও ভিটামিন সমৃদ্ধ এন্টিঅক্সিডেন্ট, এন্টিইনফ্লেমেটরি ও এন্টিব্যাকটেরিয়াল ক্ষমতা ত্বকের পোরসের মধ্যে থাকা ব্ল্যাকহেডস দূর করে পোরস ছোট করে আনে। আপনার ত্বকের শুষ্কতা, অতিরিক্ত টান টান ভাব কমিয়ে আনে এবং ত্বকের গভীরে পর্যাপ্ত পুষ্টি সরবারহ করে ত্বকের কোষ পুনর্গঠন করে।
ব্যবহারবিধি
প্রথম ধাপ
প্রথমে মুখ ভালোভাবে ফেস ওয়াশ বা ক্লিনজার দিয়ে পরিষ্কার করে হালকা শুকিয়ে নিতে হবে।
দ্বিতীয় ধাপ
মাস্ক শিটের ভাঁজ খুলে তা সম্পূর্ণ মুখে সমান ভাবে বসিয়ে নিন এবং এভাবে ২০ থেকে ২৫ মিনিট রেখে দিন।
তৃতীয় ধাপ
২০ থেকে ২৫ মিনিট পর মুখের শেষ প্রান্ত থেকে আস্তে করে টেনে মাস্কটি তুলে নিন এবং অবশিষ্ট সিরাম মুখে ম্যাসাজ করে নিন।
সাবধানতা
শুধুমাত্র বাহ্যিক ব্যবহারের জন্য। চোখের এরিয়ায় ব্যবহার, ত্বকে কোন ধরনের ক্ষত, লালচে দাগ, ফোলাভাব, চুলকনি, জ্বালাপোড়া বা এজমার সমস্যা থেকে থাকলে মাস্কটি ব্যবহার করা থেকে বিরত থাকুন। কোন পার্শ্বপ্রতিক্রিয়া হয়ে থাকলে দ্রুত চিকিৎসকের পরামর্শ নিন। মাস্কটি ব্যবহারের পর সূর্যের আলোতে বা তাপে কোন সমস্যা দেখা দিলে তাৎক্ষনিক ব্যবহার বন্ধ করুন। মাস্কটি ব্যবহার করে সরাসরি সূর্যের আলোর সংস্পর্শে যাওয়া যাবে না। শিশুদের হাতের নাগালের বাইরে রাখুন। একবার ব্যবহার করা মাস্ক দ্বিতীয় বার ব্যবহার করবেন না।
উপকরণ
Water, Glycerin, Dipropylene Glycol, Alcohol, Hydroxyethylcellulose, Butylene Glycol, 1,2-Hexanediol, Paeonia Suffruticosa Root Extract, Centella Asiatica Extract, PEG-60 Hydrogenated Castor Oil, Trehalose, Chamomilla Recutita (Matricaria) Flower Extract, Cucumis Sativus (Cucumber) Fruit Extract, Glyceryl Caprylate, Arginine, Carbomer, Ethylhexylglycerin, Sodium Hyaluronate, Glyceryl Acrylate/Acrylic Acid Copolymer, Pvm/Ma Copolymer, Lavandula Angustifolia (Lavender) Extract, Melissa Officinalis Leaf Extract, Origanum Vulgare Leaf Extract, Pelargonium Graveolens Extract, Eucalyptus Globulus Leaf Extract, Melaleuca Alternifolia (Tea Tree) Leaf Extract, Mentha Piperita (Peppermint) Leaf Extract, Disodium EDTA, Fragrance, Benzyl Benzoate

ইনবক্স এ মেসেজ করার পরিবর্তে, সরাসরি আমাদের App অথবা Website এ অর্ডার করলে পণ্য পাওয়ার নিশ্চয়তা বেশি থাকে। কারন, আপনার মেসেজটি আমাদের এজেন্ট পড়ার পূর্বে অন্য ক্রেতা App অথবা Website থেকে কিনে স্টক আউট করে দিতে পারে।
বাংলাশপার্স সবসময় সঠিক স্টক ওয়েবসাইট এ আপডেট করে থাকার চেষ্টা করে। এর পরেও যে কোনো কারণে ওয়েবসাইট এ পণ্যটির সঠিক স্টক আপডেট করা না থাকলে আমরা আপনাকে দ্রুত কল করে জানিয়ে দিবো যেন আপনি আপনার ডেলিভারি সম্পর্কে দ্রুত সিদ্ধান্ত নিতে পারেন।
তাই অতি জরুরী অবস্থার প্রেক্ষিতে অনুগ্রহ করে আমাদের আগে কল করে নিশ্চিত হউন পণ্য টি এখনো স্টক এ আছে কিনা। অন্যথায় কোনো কারণে ডেলিভারি বিলম্ব হলে আমরা দায়ী থাকবো না।
মোবাইল ভার্সন - https://www.youtube.com/watch?v=EfEFMpwEttI