Nature Republic Super Aqua Max Fresh Watery Cream - 80ml
Special Price
TK 999.00
Regular Price
TK 1,400.00

Nature Republic Super Aqua Max Fresh Watery Cream containing contains portulaca oleracea extract and liqcorice root extract making the skin feel smooth by providing astringent effect to oily skin and maintaining moisture levels. Light weight hydrating cream moisturizes and cools skin, while this multi-tasking cream hydrates, brightens hyperpigmentation, diminishes fine lines and wrinkles.
Features
Nourishes and provides intense hydration
Contains with portulaca oleracea extract and liqcorice root extract
Significantly improves skin tone and elasticity
keeps your skin radiant and diminishes dark pots
Absorbs quickly without stickiness, non-greasy
Prevent wrinkles and fine lines
Perfect cream for oily skin
Nature Republic Super Aqua Max Fresh Watery Cream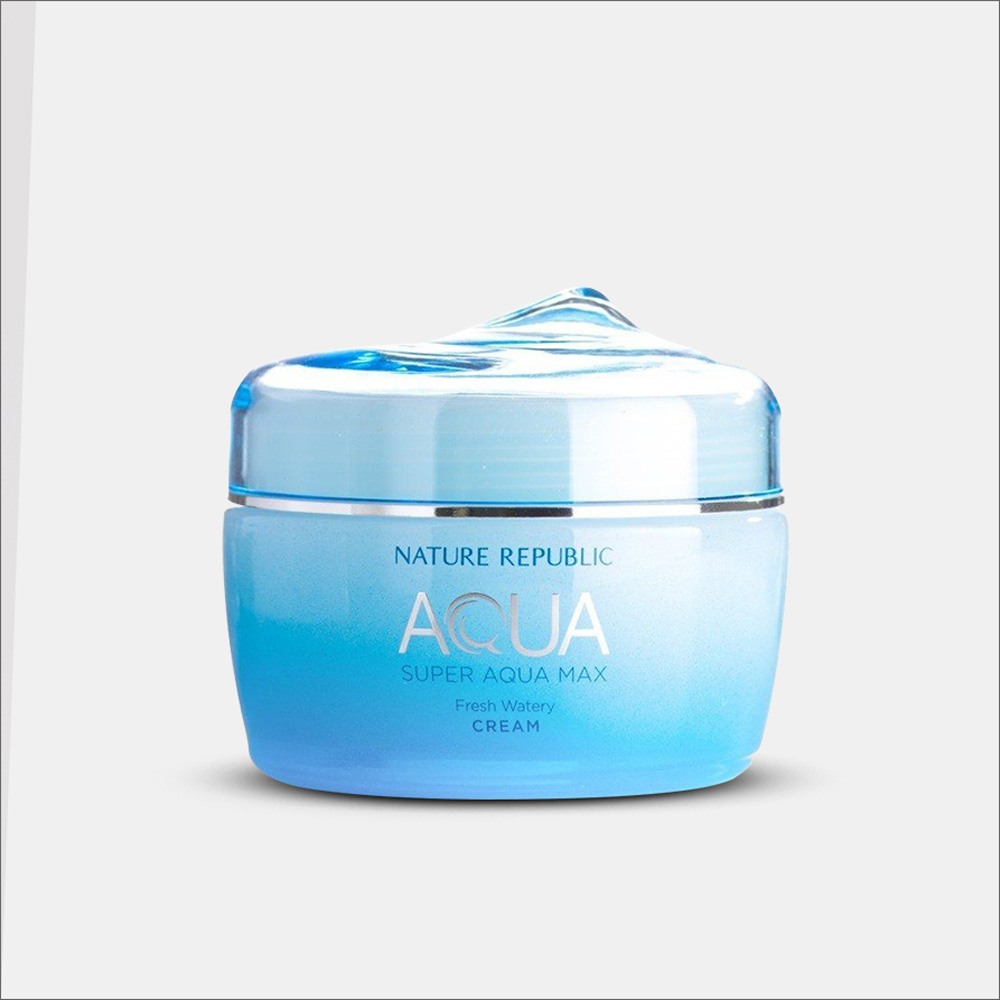 Its acting as antioxidants, anti-inflammatory and moisturizing ingredients, the ability to soothe irritated skin quickly, as well as portulaca oleracea extract has a great ability to brightens skin tone and reduce skin damage caused by UV. Liqcorice root extract that reduce pigmentation significantly, enhance wound healing and firmly build up skin barrier for healthy skin.
Free of harmful ingredients, non-greasy fresh watery cream that combines with its portulaca oleracea extract and liqcorice root extract to keeps skin moist for 72 Hours without sticky finish, nourishes, smooths, lifts and strengthens skin. Perfect for oily skin with a light and refreshing sensation.
High water content marine plants provide deep moisture for skin, and minerals rich deep-sea water provides nutrition to skin, its powerful anti-aging and skin-soothing properties acts as protection against inflammation, irritation, and redness on your skin.
How to use
Step - 1
After cleansing your face with warm water then pat your skin dry.
Step - 2
Apply this cream after using toner or serum, gently rub and lightly press your palms until it is fully applied to your face and neck.
Step - 3
Apply this cream in every evening.
Caution
Apply on entire face. Gently pat for absorption. For external use only. Avoid contact with eyes. Discontinue use if signs of irritation or rashes appear. Replace cap after use. Keep out of reach of children.

More Information

| | |
| --- | --- |
| Cream Type | Moisturizing Cream |
| Skin Type | All Types of Skin |
| Solution Type | Moisturizing |
| Brand Name | Nature Republic |
| Manufacturer | Nature Republic |
| Distributed By | Belaface Limited |

Nature Republic Super Aqua Max Fresh Watery Cream টি portulaca oleracea নির্যাস এবং liqcorice root নির্যাস দিয়ে তৈরি যা ত্বকে মসৃণতা আনে ও তৈলাক্ত ত্বকে স্বাভাবিক উজ্জ্বলতা আনে এবং ময়েশ্চারাইজ লেভেল ভারসাম্য রাখে। হালকা টেক্সচারের এই হাইড্রেটিং ক্রিম ত্বককে আর্দ্র রাখে এবং শীতল অনুভূতি দেয়, বিভিন্ন কাজে কার্যকরী এই ক্রিম ত্বকের আর্দ্রতা ধরে রাখে, হাইপারপিগমেন্টেশন ধীরে ধীরে উজ্জ্বল করে, ত্বকে বয়সের ছাপ ও বলিরেখা পড়লে তা দ্রুত কমিয়ে আনতে সাহায্য করে।
বৈশিষ্ট্য
ত্বকে পর্যাপ্ত পুষ্টি সরবারহ করে হাইড্রেশন প্রদান করে
Portulaca oleracea নির্যাস এবং liqcorice root নির্যাস দিয়ে তৈরি
ত্বকের রং উন্নত করে ত্বক টান টান করে
ত্বকের উজ্জ্বলতা বৃদ্ধি করে কালচে দাগ ধীরে ধীরে অদৃশ্য করে
আঠালো বা চিটচিটে ভাব ছাড়া দ্রুত ত্বকে প্রবেশ করে
বয়সের ছাপ বা ভাঁজ পড়ার বিরুদ্ধে কাজ করে
তৈলাক্ত ত্বকের জন্য আদর্শ
Nature Republic Super Aqua Max Fresh Watery Cream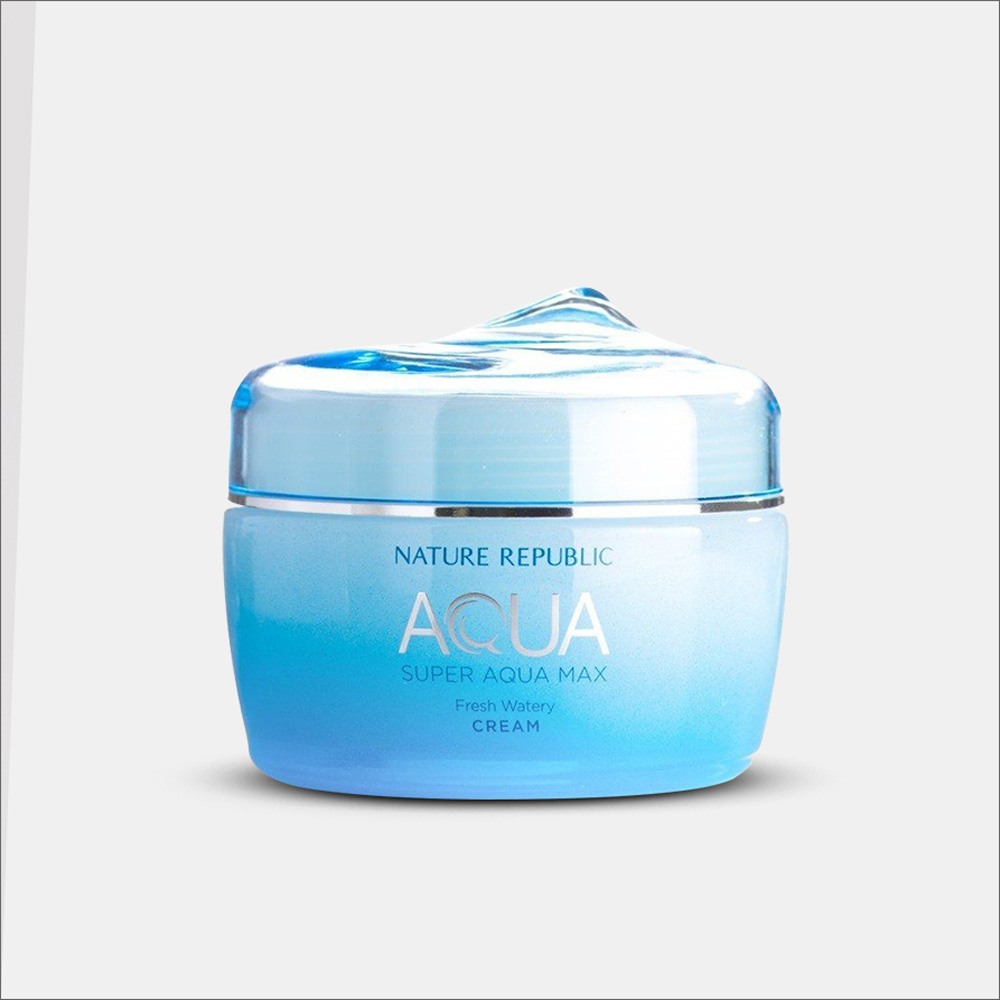 এই ক্রিম এন্টি অক্সিডেন্ট, এন্টি ইনফ্লেমেটরি এবং ময়েশ্চারাইজিং গুনাগুন সম্পন্ন, ত্বকের অস্বস্তিভাব বা জ্বালাপোড়া কমিয়ে আরাম প্রদান করে, portulaca oleracea নির্যাস ত্বকের স্বাভাবিক উজ্জ্বলতা বাড়িয়ে দেয় এবং সূর্যের ক্ষতিকর UV রশ্মি থেকে সুরক্ষিত রাখে। Liqcorice root নির্যাস ত্বকের অবাঞ্ছিত পিগমেন্টেশন কমিয়ে নিয়ে আসে, ত্বকের ক্ষত দ্রুত সাড়িয়ে তোলে এবং ত্বককে স্বাস্থ্যকর করে তোলে।
এর মধ্যে ক্ষতিকর কোন উপাদান ব্যবহার করা হয়নি, আঠালো বা চিটচিটে ভাব নেই এর সাথে থাকা portulaca oleracea এবং liqcorice root নির্যাস ত্বককে ৭২ ঘণ্টা পর্যন্ত ত্বককে ময়েশ্চারাইজ রাখে, পুষ্টি সমৃদ্ধ, মসৃণ, প্রাণবন্ত এবং দৃঢ় করে তোলে। তৈলাক্ত ত্বকের জন্য বেশি উপকারী যা ত্বককে উজ্জ্বল করার পাশাপাশি সতেজতা বাড়িয়ে দেয়।
উচ্চ পানির গুনাগুন সমৃদ্ধ ভেষজ উপাদান গভীর থেকে ত্বক ময়েশ্চারাইজ করে, এবং উচ্চ মিনারেলস সমৃদ্ধ deep-sea water ত্বকে পুষ্টি প্রদান করে, শক্তিশালী এন্টি এজিং ও ক্ষত নিরাময় গুনাগুন সম্পন্ন এই ক্রিম ত্বকের মৃত চামড়া ওঠার সমস্যার সমাধান করে, অস্বস্তি অনুভূতি হতে দেয় না এবং লালচে ভাব কমিয়ে আনে।
ব্যবহারবিধি
প্রথম ধাপ
প্রথমে মুখ ভালোভাবে ফেস ওয়াশ বা ক্লিনজার দিয়ে পরিষ্কার করে হালকা শুকিয়ে নিতে হবে।
দ্বিতীয় ধাপ
টোনার বা সিরাম এপ্লাই করার পর হাতে পরিমাণ মতো ক্রিম নিয়ে মুখে পুরোপুরি শুকিয়ে না যাওয়া পর্যন্ত আলতো করে ম্যাসাজ করুন।
তৃতীয় ধাপ
এই ক্রিমটি সন্ধ্যা বা রাতে ঘুমানোর আগে এপ্লাই করতে হবে।
সতর্কতা
শুধুমাত্র মুখে ব্যবহারের জন্য। শুকানোর সাথে সাথে ত্বকে প্রবেশ করে। বাহ্যিক ব্যবহারের জন্য। চোখের পাশের এরিয়াতে ব্যবহার করা যাবে না। ত্বকে কোন অস্বস্তি অনুভূতি, চুলকনি ভাব দেখা দিলে ব্যবহার করা থেকে বিরত থাকুন। ব্যবহারের পর ক্যাপ ভালোভাবে আটকে নিন। শিশুদের হাতের নাগালের বাইরে রাখুন।

ইনবক্স এ মেসেজ করার পরিবর্তে, সরাসরি আমাদের App অথবা Website এ অর্ডার করলে পণ্য পাওয়ার নিশ্চয়তা বেশি থাকে। কারন, আপনার মেসেজটি আমাদের এজেন্ট পড়ার পূর্বে অন্য ক্রেতা App অথবা Website থেকে কিনে স্টক আউট করে দিতে পারে।
বাংলাশপার্স সবসময় সঠিক স্টক ওয়েবসাইট এ আপডেট করে থাকার চেষ্টা করে। এর পরেও যে কোনো কারণে ওয়েবসাইট এ পণ্যটির সঠিক স্টক আপডেট করা না থাকলে আমরা আপনাকে দ্রুত কল করে জানিয়ে দিবো যেন আপনি আপনার ডেলিভারি সম্পর্কে দ্রুত সিদ্ধান্ত নিতে পারেন।
তাই অতি জরুরী অবস্থার প্রেক্ষিতে অনুগ্রহ করে আমাদের আগে কল করে নিশ্চিত হউন পণ্য টি এখনো স্টক এ আছে কিনা। অন্যথায় কোনো কারণে ডেলিভারি বিলম্ব হলে আমরা দায়ী থাকবো না।
মোবাইল ভার্সন - https://www.youtube.com/watch?v=EfEFMpwEttI