Neutrogena Hydro Boost Water Gel For Normal To Combination Skin - 50ml
Special Price
TK 1,450.00
Regular Price
TK 1,750.00
Stock:
More than 10 available
Ingredients: Water (Eau), Sodium Methyl Cocoyl Taurate, Jojoba Esters, Glycerin, Cocamidopropyl Betaine, Glycol Distearate, Stearic Acid, Sodium Chloride, Acrylates/C10-30 Alkyl Acrylate Crosspolymer, Cetyl Alcohol, Salicylic Acid, Xanthan Gum, Phenoxyethanol, Titanium Dioxide, Citric Acid, Magnesium Aluminum Silicate, Linoleamidopropyl Pg-Dimonium Chloride Phosphate, Methylparaben, Sodium Hydroxide, Disodium EDTA, Parfum, Propylparaben, Ethylparaben, Agar, Iron Oxides, Mica, Red 30

This Hydro Boost water gel moisturizer specially contains Hyaluronic Acid, nourish and hydrate dry skin for 24hour, binding water to the skin and preventing moisture loss for soft, supple skin. The power of plant anti-oxidants, this gel delivers energy to your skin, nourishing and building material for skin. Neutrogena® Hydro Boost Water Gel instantly moisturize dry skin and control shine in oily areas.
Features
Lightweight moisturizer is specially formulated for normal to combination skin
Restore moisturize and hydrate skin
100% alcohol-free, and non-comedogenic
Improves skin smoothness and absorbs quickly
Developed with dermatologists and oil free
Protects from dryness and doesn't clog pores
Contains with hyaluronic acid
Neutrogena Hydro Boost Water Gel For Normal To Combination Skin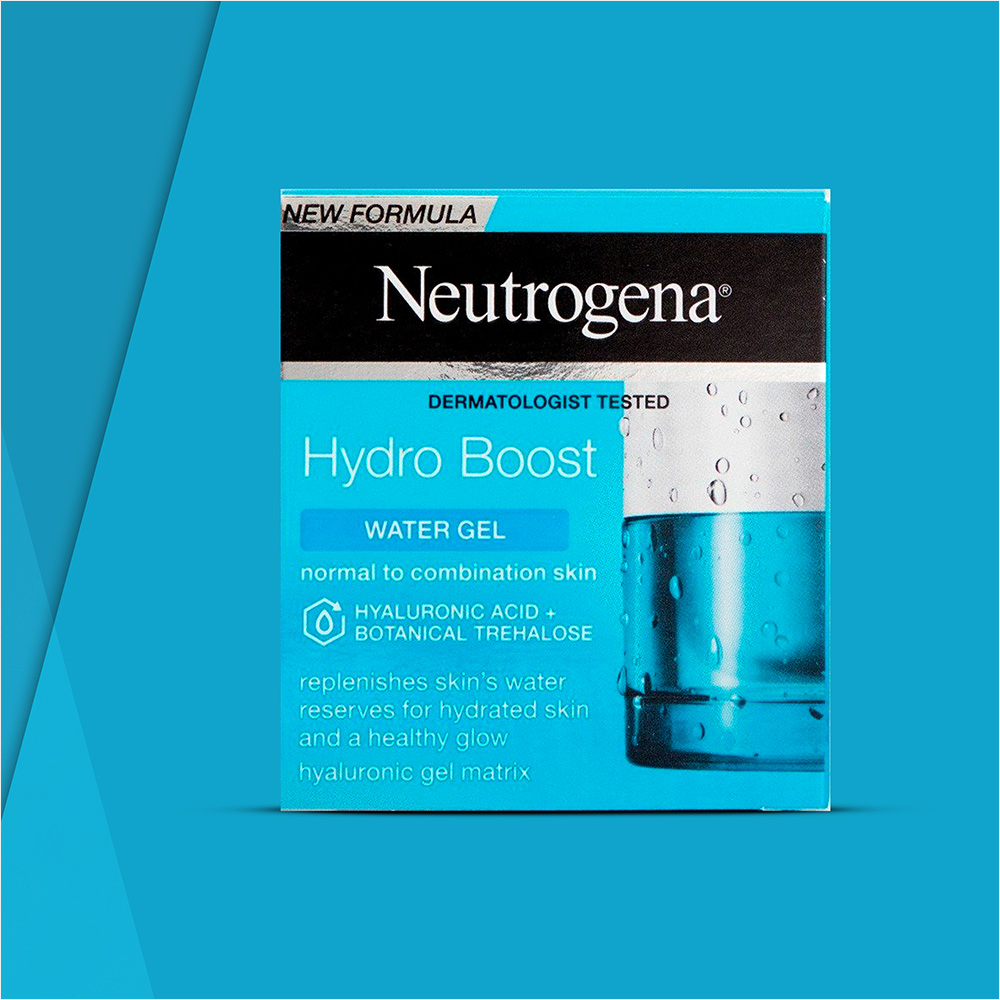 Neutrogena Hydro Boost water gel is lightweight for normal to combination skin, this formula moisturizes dry skin without adding shine, leaving skin feeling softer and smoother. With an oil-absorbing system, this facial moisturizer is clinically proven to control shininess and contains Hyaluronic Acid, a hydrator found naturally in the skin, which attracts moisture and locks it in.
From a dermatologist-recommended brand, this daily moisturizer gel is helps hydrate dry skin & lightweight, oil-free and non-comedogenic so it won't clog pores. Plus, it makes the perfect addition to your daily skincare routine that won't irritate skin and instantly delivers intense hydration.
It's flourished the skin texture, smoother, clearer complexion, helps to restore hydrolipidic skin layer and significantly clinically proven to help prevent spots and fade spot marks while respecting the skin's natural balance. This rich moisturizer gel instantly quenches dry skin and keeps it looking smooth, supple and hydrated day after day.
How to use
Step - 1
After cleansing your face with warm water then pat your skin dry.
Step - 2
Apply the gel onto your skin, gently rub and lightly press your palms and pat the cream on in outwards and upwards motions until it is fully applied to your face and neck.
Step - 3
Use in the morning and in the evening, possibly followed by a moisturizer.
Ingredients
Water, Dimethicone, Glycerin, Dimethicone/vinyl Dimethicone Crosspolymer, Phenoxyethanol, Polyacrylamide, Cetearyl Olivate, Sorbitan Olivate, Dimethiconol, C13-14 Isoparaffin, Dimethicone Crosspolymer, Chlorphenesin, Carbomer, Laureth-7, Sodium Hyaluronate, Ethylhexylglycerin, Fragrance, C12-14 Pareth -12, Sodium Hydroxide, Blue 1

More Information

| | |
| --- | --- |
| Cream Type | Moisturizer |
| Skin Type | Combination SKin |
| Solution Type | Moisturizing Cream |
| Brand Name | Neutrogena |
| Manufacturer | Neutrogena |
| Country of Manufacture | France |
| Distributed By | RT World Ltd |

Hydro Boost Water Gel এ হায়ালুরনিক এসিড উপাদান সমৃদ্ধ ময়েশ্চারাইজার জেলটি বিশেষভাবে তৈরি যা শুষ্ক ত্বকে ২৪ ঘণ্টার জন্য পর্যাপ্ত পুষ্টি সরবারহ করে ত্বককে হাইড্রেড রাখে, ত্বকের পানির স্তরের ভারসাম্য রাখে ও ময়েশ্চারাইজ কমে যাওয়াকে প্রতিরোধ করে ত্বককে নরম ও মসৃণ করে। এন্টি অক্সিডেন্ট সমৃদ্ধ এই ময়েশ্চারাইজার ত্বকে পর্যাপ্ত শক্তি প্রদান করে, ত্বকের গঠন মজবুত করে। Neutrogena Hydro Boost Water Gel যা ত্বকের শুষ্কতা কমিয়ে আনে ও তৈলাক্ত ভাব আনে না।
বৈশিষ্ট্য
হালকা টেক্সচারের এই ময়েশ্চারাইজার বিশেষভাবে নর্মাল থেকে সংমিশ্রিত ত্বকের জন্য উপযোগী
ত্বক ময়েশ্চারাইজ ও হাইড্রেড করে
১০০% অ্যালকোহল মুক্ত ও ক্ষতিকারক উপাদান নেই
দ্রুত ত্বকে প্রবেশ করে বিধায় ত্বককে আরো মসৃণ করে
ত্বক বিশেষজ্ঞ দ্বারা পরীক্ষিত ও অয়েল ফ্রি
ত্বকের অতিরিক্ত শুষ্কতা ও পোরস বন্ধ করে না
হায়ালুরনিক এসিড উপাদান সমৃদ্ধ
Neutrogena Hydro Boost Water Gel For Normal To Combination Skin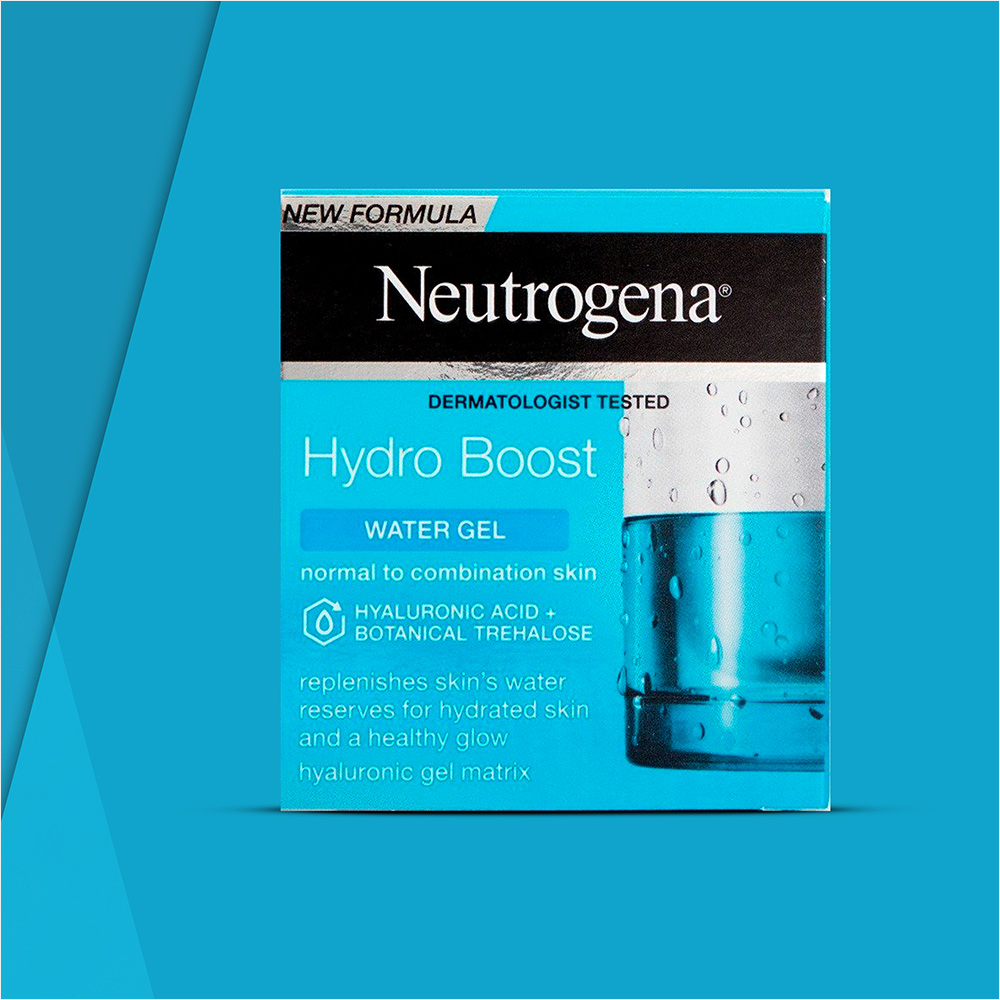 Neutrogena Hydro Boost Water Gel এই ময়েশ্চারাইজার হালকা টেক্সচারের ও দ্বিগুণ কার্যক্ষমতা তৈলাক্ত বা শুষ্ক সব ধরনের ত্বকের জন্য তৈরি করা হয়েছে, এর ফর্মুলা ত্বকের শুষ্কতা কমিয়ে বাড়তি উজ্জ্বলতা কমিয়ে আনে এবং ত্বককে করে কোমল ও মসৃণ। এর অয়েল শোষণ করার বিশেষ ক্ষমতা ত্বকে প্রাকৃতিক ময়েশ্চারাইজ ভাব লক করে ও ক্লিনিক্যালি প্রমাণিত হায়ালুরনিক এসিড উপাদান সমৃদ্ধ।
ত্বক বিশেষজ্ঞরা ত্বকের কোন সমস্যা হয়ে থাকলে সেক্ষেত্রে বিশেষভাবে এই ব্র্যান্ডটির পণ্য ব্যবহার করার জন্য পরামর্শ দিয়ে থাকে, এই জেল ত্বকের শুষ্কতা কমিয়ে আনে ও হালকা টেক্সচারের, প্রতিদিনের ব্যবহারের জন্য এই লোশন অনেক কার্যকরী ত্বকের শুষ্কতা, উজ্জ্বলতা ভাব কমিয়ে আনে, হালকা টেক্সচারের, অয়েল ফ্রি এবং ক্ষতিকারক উপাদান মুক্ত। প্রতিদিন ব্যবহারে আপনার ত্বকে কোন ধরনের অস্বস্তিভাব হবে না এবং পোরস বন্ধ না করে ত্বকের হাইড্রেশন ধরে রেখে।
ত্বকের গঠন উন্নত করে, উজ্জ্বল, মসৃণ ও মখমলের মতো কোমল করে তোলে। এই ক্রিমে থাকা উপাদান ত্বকের হাইড্রোলিপিডিক স্তরকে পুনরুদ্ধার করে এবং উল্লেখযোগ্যভাবে ত্বকের অবাঞ্ছিত দাগ ও স্পট ধীরে ধীরে কমিয়ে আনে এবং ত্বকের পুষ্টির সরবারহ ভারসাম্য রাখে। ময়েশ্চারাইজ জেলটি দিন দিন ব্যবহারের ফলে ত্বককে মসৃণ, কোমল ও হাইড্রেড করে।
ব্যবহারবিধি
প্রথম ধাপ
প্রথমে আপনার ত্বক ক্লিনজার দিয়ে ভালোভাবে পরিষ্কার করে শুকিয়ে নিন ।
দ্বিতীয় ধাপ
প্রয়োজনীয় পরিমাণ ময়েশ্চারাইজার জেল নিয়ে আপনার মুখে আলতো করে ম্যাসাজ করুন।
তৃতীয় ধাপ
জেলটি খুব দ্রুতই ত্বকের সাথে মিশে যাবে, সকালে অথবা রাতে এই জেল ব্যবহার করতে পারবেন।
উপকরণ
Water, Dimethicone, Glycerin, Dimethicone/vinyl Dimethicone Crosspolymer, Phenoxyethanol, Polyacrylamide, Cetearyl Olivate, Sorbitan Olivate, Dimethiconol, C13-14 Isoparaffin, Dimethicone Crosspolymer, Chlorphenesin, Carbomer, Laureth-7, Sodium Hyaluronate, Ethylhexylglycerin, Fragrance, C12-14 Pareth -12, Sodium Hydroxide, Blue 1

ইনবক্স এ মেসেজ করার পরিবর্তে, সরাসরি আমাদের App অথবা Website এ অর্ডার করলে পণ্য পাওয়ার নিশ্চয়তা বেশি থাকে। কারন, আপনার মেসেজটি আমাদের এজেন্ট পড়ার পূর্বে অন্য ক্রেতা App অথবা Website থেকে কিনে স্টক আউট করে দিতে পারে।
বাংলাশপার্স সবসময় সঠিক স্টক ওয়েবসাইট এ আপডেট করে থাকার চেষ্টা করে। এর পরেও যে কোনো কারণে ওয়েবসাইট এ পণ্যটির সঠিক স্টক আপডেট করা না থাকলে আমরা আপনাকে দ্রুত কল করে জানিয়ে দিবো যেন আপনি আপনার ডেলিভারি সম্পর্কে দ্রুত সিদ্ধান্ত নিতে পারেন।
তাই অতি জরুরী অবস্থার প্রেক্ষিতে অনুগ্রহ করে আমাদের আগে কল করে নিশ্চিত হউন পণ্য টি এখনো স্টক এ আছে কিনা। অন্যথায় কোনো কারণে ডেলিভারি বিলম্ব হলে আমরা দায়ী থাকবো না।
মোবাইল ভার্সন - https://www.youtube.com/watch?v=EfEFMpwEttI