Revuele Deep Cleansing 3D Black Peel Off Face Mask With Co-Enzymes - Reduces Blackheads - 80ml
Bulgarian Brand Made in EU
Special Price
TK 450.00
Regular Price
TK 550.00
The BLACK MASK 3D Facial Peel Off CO-ENZYMES which is based on Activated Carbon for deep purification and nutrition of skin cells. It removes any dirt, purifies skin perfectly, draw out blackheads and boosts its regeneration. The active ingredients of the Mask penetrate more deeply into the lower layers of the epidermis contributing to pore closing, smoothing skin surfaces, making it flexible and look well cared for.
Features
Contains with activate Carbon and Coenzyme Q10
Stimulates collagen production
Brighten skin complexion
Minimizing skin blemishes and tightening skin
Increasing elasticity and smoothness
Gently exfoliates our skin
Preventing premature ageing
Suitable for all skin types
Minimize pore size
Scrubs and cleansed our skin
Revuele Deep Cleansing 3D Black Peel Off Face Mask With Co-Enzymes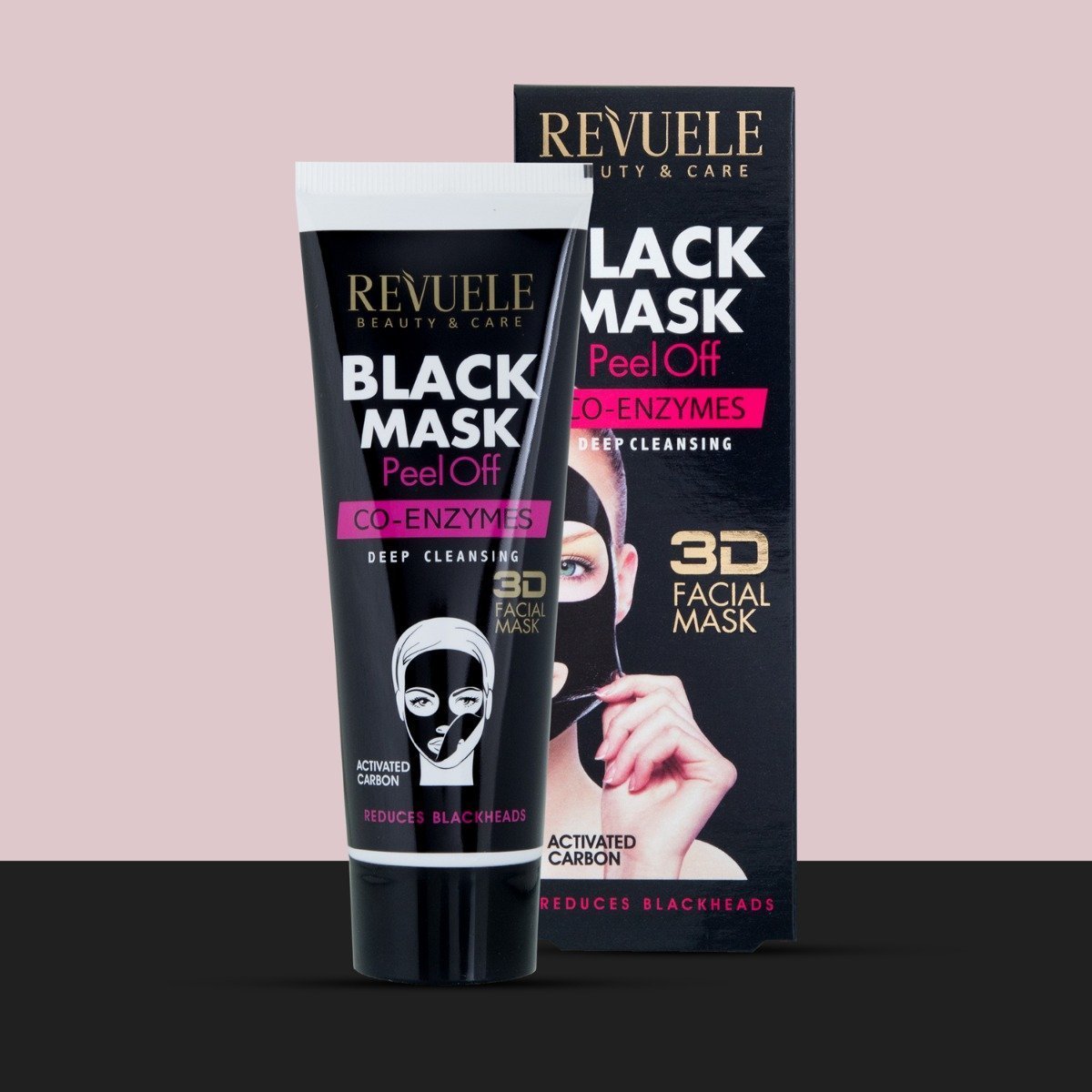 Coenzyme Q10 is specially fight against skin damage. This mask contains Q10, which causes the skin aging process to be delayed. Coenzyme Q10 a vital antioxidant and crucial for the energy production process that provides cells with energy to build collagen and maintain skin elasticity.
This black mask enriched with Carbon to treat especially acne-prone skin. It helps to maintain the oxygen balance of the skin, narrowing the pores and reducing the acne. Contains active agents that cleans the deep layers of the skin, narrows the pores, providing elasticity and shine and also regulates the production of sebum, creating a matte effect.
Due to its high absorption capacity, activated carbon increases the cleansing effect, softly absorbs impurities and toxins, cleanses your pores and removes the excess sebum and dirt, eliminates sebaceous plugs, removes dead skin cells. This peel off mask based on activated carbon is developed for effective skin cleansing and to fight acne and blackheads.
How To Use
Step - 1: Cleansing
Cleanse your face with warm water to remove your makeup, dirt and open up the pores. Opening your pores will allow your clay mask to interfuse and clean to remove more debris from deep inside your pores.
Step - 2: Apply
Step two is to apply the clay mask in an even and medium thick layer to your face. You must be avoiding your hairline, eyebrows, eyes, lips and any area that is very sensitive. You can use your fingertips or a mask brush, you will get the same results from either. Let it to dry for 15 – 20 minutes.
Step - 3: Wash
Before remove this mask make sure it has completely dried. It should be shiny and feel like latex. Start the peeling process from the outer edges gently and slowly. If you feel too uneasy to peel off, remove by rinsing off with warm water.
Ingredients
Aqua, Polyvinyl Alcohol, Alcohol Denat, Glycerin, Propylene Glycol, Kaolin, Panthenol, Camellia Sinesis Leaf Extract, Glycyrrhiza Glabra Root Extract, Ubiquinone, Charcoal Powder, Papain, Salicylic Acid, Phenoxyethanol, Parfum, Butylphenyl Methylpropional.
*We are committed to innovation and periodically upgrade our formulations. Thus the ingredients lists shown here may vary from the product packaging.

More Information

| | |
| --- | --- |
| Skin Type | All Types of Skin |
| Solution Type | Unassigned |
| Brand Name | Revuele |
| Manufacturer | Revuele |
| Country of Manufacture | Bulgaria |
| Distributed By | RT World Ltd |
ইনবক্স এ মেসেজ করার পরিবর্তে, সরাসরি আমাদের App অথবা Website এ অর্ডার করলে পণ্য পাওয়ার নিশ্চয়তা বেশি থাকে। কারন, আপনার মেসেজটি আমাদের এজেন্ট পড়ার পূর্বে অন্য ক্রেতা App অথবা Website থেকে কিনে স্টক আউট করে দিতে পারে।
বাংলাশপার্স সবসময় সঠিক স্টক ওয়েবসাইট এ আপডেট করে থাকার চেষ্টা করে। এর পরেও যে কোনো কারণে ওয়েবসাইট এ পণ্যটির সঠিক স্টক আপডেট করা না থাকলে আমরা আপনাকে দ্রুত কল করে জানিয়ে দিবো যেন আপনি আপনার ডেলিভারি সম্পর্কে দ্রুত সিদ্ধান্ত নিতে পারেন।
তাই অতি জরুরী অবস্থার প্রেক্ষিতে অনুগ্রহ করে আমাদের আগে কল করে নিশ্চিত হউন পণ্য টি এখনো স্টক এ আছে কিনা। অন্যথায় কোনো কারণে ডেলিভারি বিলম্ব হলে আমরা দায়ী থাকবো না।
মোবাইল ভার্সন - https://www.youtube.com/watch?v=EfEFMpwEttI