Technic Blush Palette Warm Edit - 20gm
Special Price
TK 550.00
Regular Price
TK 750.00

Introducing our Warm Edit blusher palette is a dome powder blusher with a highly pigmented and long-lasting formula which give you shimmer and buttery matte finishes. Designed to suit to all skin tones, wear alone or swirled together to create your own shade. Add a touch of youthful, complexion enhancing color to your cheeks with Warm Edit blusher. For fairer skin it can be used as an eye shadow or tapped on lightly to the apples of the cheeks for a girly finish to any look.
Features
Highly pigmented and shimmery
Easy to blend and give matte finish
Soft texture and long lasting
Suitable for Vegans & Vegetarians
Suitable for all skin tones
Look skin complexion fresh, healthy and youthful
Technic Blush Palette Warm Edit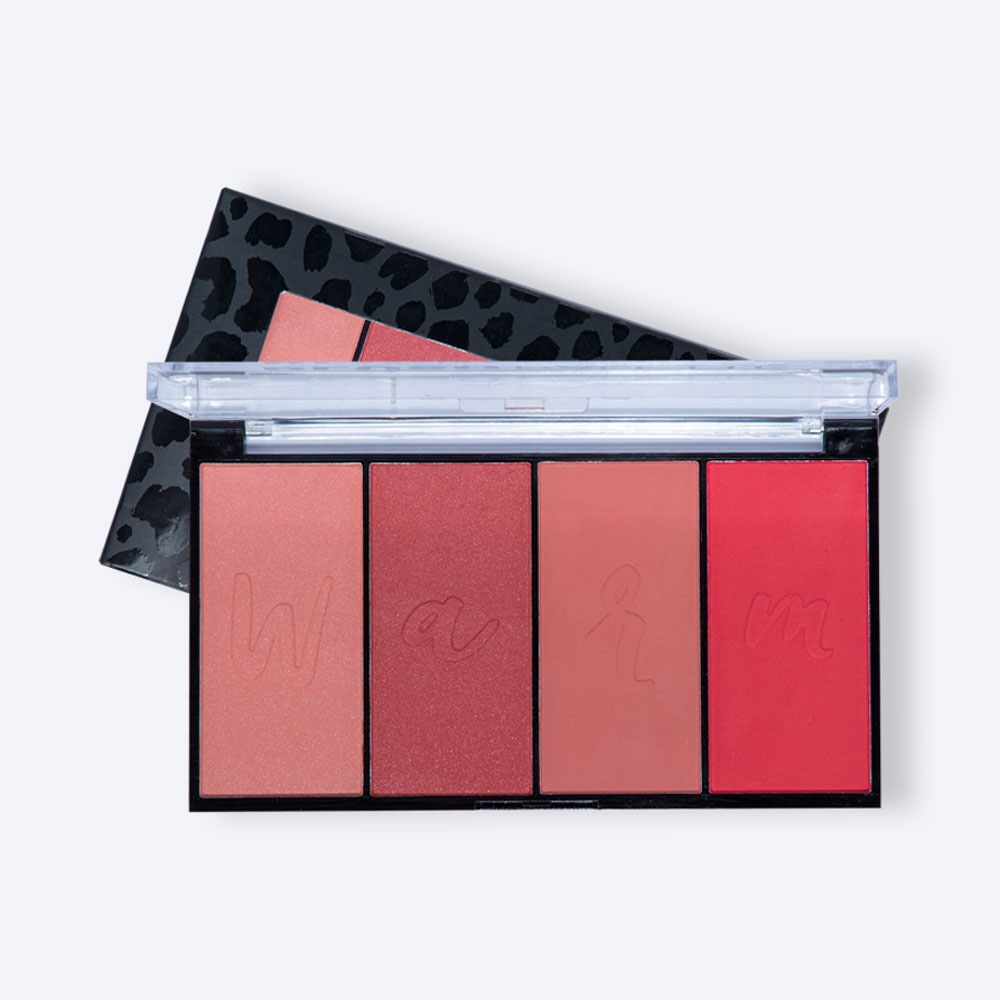 Blush is not just about that dash of color; it can give anyone a natural flush. No matter if your skin is naturally oily, dry, or just plain sweaty, getting a pretty, matte and long-lasting glow is possible. Warm Edit blusher palette is a soft pigment, super blendable and available in powder formula.
This brilliant blush is suitable for warm up, cool-toned or fair skin and helps to change your face shape, skin tone and lifestyle. It can also brighten sallow or tired skin and also adds depth on medium to deep skin tones.
Blush is used to add a flush of color to the cheeks and make your complexion look healthier and vibrant. This blush tends to come in variations of orange, pink and papaya color, just a few swipes of blush can, and make your skin look more natural, youthful and glow.
Benefits
Super pigmented
This rich shade is highly pigmented that easy to apply and blend effortless.
Matte finish
This blush is a subtle peach pop shade that contains a mix of mattes and satins textured.
Natural look
The blush blend effortlessly without any fall out and you can get perfect natural color.
How to use
Step-1
First finish your foundation, concealer and bronzer.
Step-2
Use a medium-sized fluffy brush and apply the blush to your cheeks, then lightly sweep to blend well.

More Information

| | |
| --- | --- |
| Skin Type | All Types of Skin |
| Solution Type | Unassigned |
| Brand Name | Technic Cosmetics |
| Manufacturer | Technic Pro |
| Country of Manufacture | China |
| Distributed By | RT World Ltd |

আমাদের Warm Edit blusher palette পাউডার ব্লাশ যা খুবই পিগমেন্টেড এবং অনেক সময় ধরে সেট থাকে এর বিশেষ ফর্মুলা ত্বকে মসৃণ, চকচকে ও মাখনের মতো নরম, ম্যাট ফিনিশ দেয়। এই ব্লাশ সব ধরনের ত্বকের রং এর সাথে মানানসই যা আলাদা আলাদা ভাবে এপ্লাই করা যায় অথবা সব গুলো শ্যাড একসাথে এপ্লাই করা যায়। এই ব্লাশ এপ্লাই করার সাথে সাথে ত্বকে তারুণ্যদীপ্ত আভা আনে ও ত্বকের স্বাভাবিক বর্ণকে উন্নত করে। এই শ্যাডটি চোখের উপরে আইশ্যাডো হিসেবে ব্যবহার করা যায় এছাড়া গালে ব্যবহারের পর হালকা গোলাপি আভা সৃষ্টি করে।
বৈশিষ্ট্য
অনেক বেশি পিগমেন্টেড এবং হালকা উজ্জ্বলতা আনে
সহজে ব্লেন্ড হয় ও ম্যাট ফিনিশ দেয়
নরম টেক্সচার ও দীর্ঘস্থায়ী
প্রাণীদেহের কোন উপাদান ব্যবহার করা হয়নি ও নিরামিষাশীদের ব্যবহারযোগ্য
সব ধরনের ত্বকের জন্য উপযোগী
ত্বকে সতেজ, স্বাস্থ্যকর ও তারুণ্যময় আভা আনে
Technic Blush Palette Warm Edit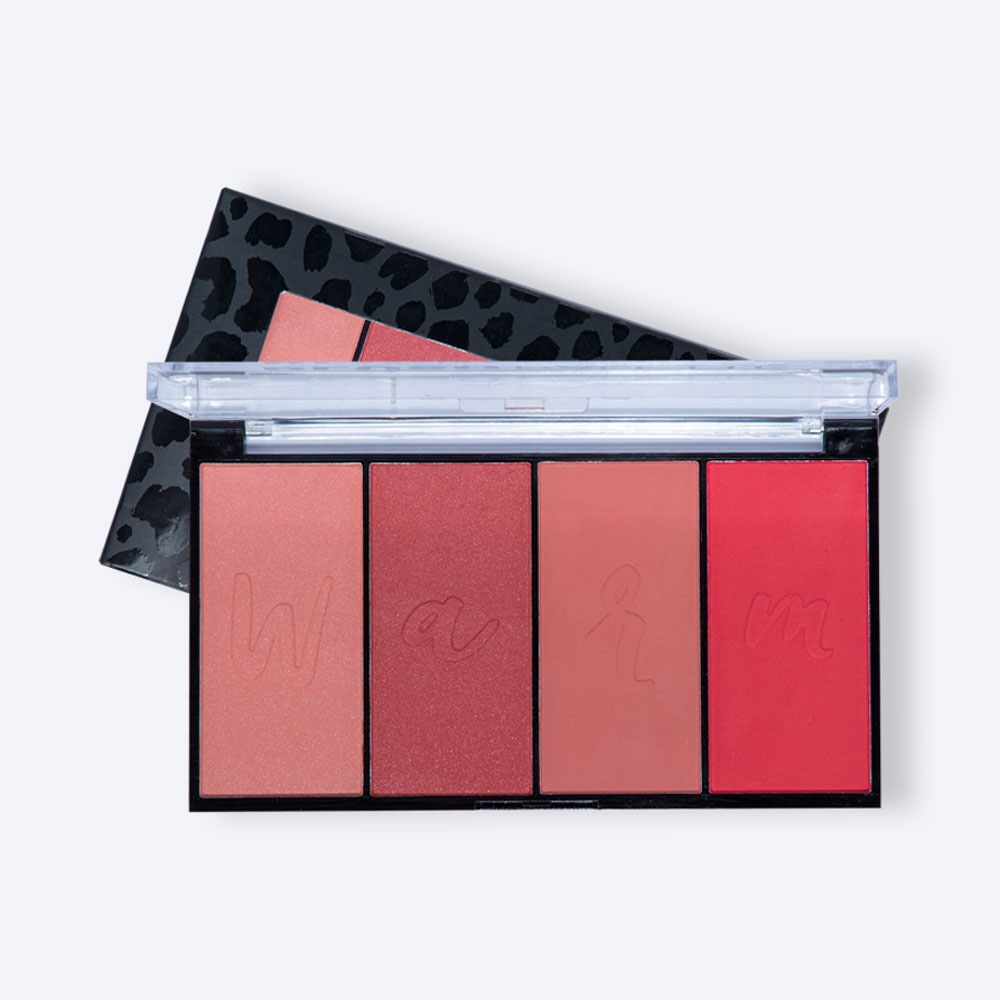 ব্লাশ শুধুমাত্র একটি কালারই নয় এটি ত্বকে ব্যবহারের পর চেহারায় আলাদা সজীবতা প্রদান করে। আপনার ত্বক তৈলাক্ত বা শুষ্ক, অথবা ঘামে ভিজা থাকুক না কেন যে কোন অবস্থাতেই এই ব্লাশ ব্যবহারের পর তাৎক্ষনিক ত্বকের সিগ্ধতা আনে, ম্যাট ফিনিশ দেয় ও অনেক সময়ের জন্য উজ্জ্বল ভাব ধরে রাখে। Warm Edit blusher palette নরম, পিগমেন্ট, সহজে ব্লেন্ড করা যায় ও পাউডার ফর্মুলাতে থাকে।
এই অসাধারণ ব্লাশটি সব ধরনের ত্বকের রং এর সাথে সহজে মানানসই এবং আপনার মুখের আকৃতি, বর্ণ ও আপনার ব্যক্তিত্বকে পরিবর্তন করতে সাহায্য করে। আপনার চেহারায় কোন ধরনের ক্লান্তিভাব,মলিনতা থাকলে তা দূর করতে সাহায্য করে ও মিডিয়াম থেকে গাঢ় রঙের ত্বকে ভিন্ন ধরনের আকর্ষণীয় ভাব ফুটিয়ে তোলে।
ব্লাশ আপনার মুখের গালে এক ধরনের গোলাপি আভা তৈরি করে ও আপনার স্বাভাবিক বর্ণকে আরো বেশি উন্নত, উজ্জ্বল ও স্বাস্থ্যকর দেখায়। এছাড়াও এই ব্লাশে আরো কালারের বৈচিত্র্যতা আছে যেমন পাপায়া, পিংক, অরেঞ্জ। একটু খানি ব্লাশ এপ্লাইয়ের পর সাথে সাথে ত্বকে ন্যাচারাল, তারুণ্যদীপ্ত ও উজ্জ্বল ভাব নিয়ে আসে।
উপকারিতা
সুপার পিগমেন্টেড
সুপার পিগমেন্টেড এই ব্লাশ কোন ধরনের বাড়তি কসরত ছাড়াই সহজে ত্বকে ব্লেন্ড হয় ।
ম্যাট ফিনিশ
এই ব্লাশ ত্বকে দেয় ম্যাট ও মখমলের মতো মসৃণ ফিনিশ।
ন্যাচারাল লুক
এই ব্লাশ ব্যবহারের পর গুড়ো হয়ে পড়ে যাওয়া অর্থাৎ ফল আউট হওয়ার ভয় থাকে না যার ফলে চেহারায় ন্যাচারাল লুক নিয়ে আসে।
ব্যবহারবিধি
প্রথম ধাপ
প্রথমে আপনার মেকাপের ফাউন্ডেশন, কন্টুরিং ও ব্রোনজার এপ্লাই শেষ করে নিন।
দ্বিতীয় ধাপ
একটি ব্লাশ এপ্লাইয়ের ব্রাশ নিয়ে আপনার মুখের গালের অংশে এপ্লাই করুন। ন্যাচারাল ভাব আনার জন্য ভালো ভাবে ব্লেন্ড করে নিন।

ইনবক্স এ মেসেজ করার পরিবর্তে, সরাসরি আমাদের App অথবা Website এ অর্ডার করলে পণ্য পাওয়ার নিশ্চয়তা বেশি থাকে। কারন, আপনার মেসেজটি আমাদের এজেন্ট পড়ার পূর্বে অন্য ক্রেতা App অথবা Website থেকে কিনে স্টক আউট করে দিতে পারে।
বাংলাশপার্স সবসময় সঠিক স্টক ওয়েবসাইট এ আপডেট করে থাকার চেষ্টা করে। এর পরেও যে কোনো কারণে ওয়েবসাইট এ পণ্যটির সঠিক স্টক আপডেট করা না থাকলে আমরা আপনাকে দ্রুত কল করে জানিয়ে দিবো যেন আপনি আপনার ডেলিভারি সম্পর্কে দ্রুত সিদ্ধান্ত নিতে পারেন।
তাই অতি জরুরী অবস্থার প্রেক্ষিতে অনুগ্রহ করে আমাদের আগে কল করে নিশ্চিত হউন পণ্য টি এখনো স্টক এ আছে কিনা। অন্যথায় কোনো কারণে ডেলিভারি বিলম্ব হলে আমরা দায়ী থাকবো না।
মোবাইল ভার্সন - https://www.youtube.com/watch?v=EfEFMpwEttI