The Body Shop Guarana & Coffee Energising Moisturiser For Man 100ml
Ingredients: Aqua/Water/Eau, Propanediol, Neopentyl Glycol Diheptanoate, Bertholletia Excelsa Seed Oil, Orbignya Oleifera Seed Oil, Triticum Vulgare Germ Oil/Wheat Germ Oil, Sodium Acrylate/Sodium Acryloyldimethyl Taurate Copolymer, Ammonium Acryloyldimethyltaurate/VP Copolymer, Phenoxyethanol, Parfum/Fragrance, Caprylyl Glycol, Isohexadecane, Carthamus Tinctorius Seed Oil/Safflower Seed Oil, Tocopheryl Acetate, Aloe Barbadensis Leaf Juice Powder, Citric Acid, Silica Silylate, Panthenol, Polysorbate 80, Glycerin, Paullinia Cupana Seed Extract, Limonene, Sorbitan Oleate, Trisodium Ethylenediamine Disuccinate, Hydrolyzed Lepidium Meyenii Root, Sodium Hydroxide, T-Butyl Alcohol, Citral, 1,2-Hexanediol, Coffea Arabica Seed Extract/Coffee Seed Extract, Linalool, Capryloyl Glycine, Sodium Benzoate, Geraniol, Potassium Sorbate, Ci 42090/Blue

Guarana & Coffee Energising Moisturiser For Man is specially enriched with Brazilian guarana and Ethiopian green coffee and organic Community Fair Trade aloe vera which especially designed for men. This moisturizer helps to nourish and hydrate dry skin, binding water to the skin and preventing moisture loss for soft, supple skin. The power of plant anti-oxidants, this moisturizer delivers energy to your skin, prevent spots and fade spot marks while respecting the skin's natural balance, for a smoother, clearer complexion.
Features
Enriched with Community Fair Trade organic aloe vera from Mexico
Contains Brazilian guarana and Ethiopian green coffee
Removes impurities from the surface of the skin
Super hydrating and long-lasting moisturizing effect
Increases skin elasticity and smoothness
Light-weight and absorbs quickly
Tested on men, not animals
The Body Shop Guarana & Coffee Energising Moisturiser For Man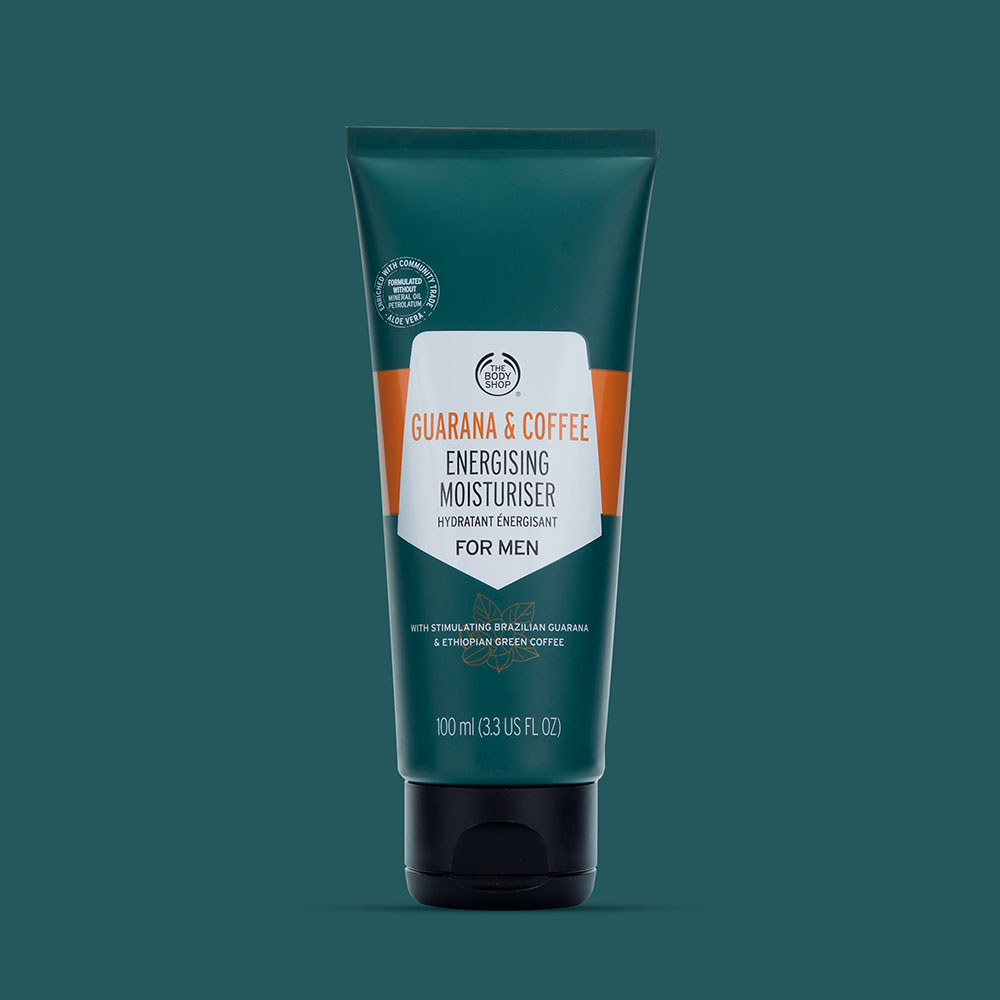 This gentle moisturizer that's specifically designed for all men skins and that doesn't contain unnecessary extra ingredients such as colors and oil. Formulated with Brazilian guarana and Ethiopian green coffee, effective yet gentle skin care that won't irritate skin and provide long time hydration and nourishment without clogging pores.
It's flourished the skin texture, skin feels cleansed and energized, make it smoother, helps to restore hydrolipidic skin layer and clinically proven to improve dullness and roughness, for younger, healthier-looking skin. This rich moisturizer softer and naturally protects it from dryness and exfoliation.
Guarana and Community Fair Trade Organic Aloe vera from Mexico has antioxidant and antimicrobial properties, this antioxidant moisturizer is light texture best moisturizer for all types of men skin, easily absorbed and reduce damage linked to aging and minimize undesirable features, such as saggy skin and wrinkles.
How To Use
Step - 1
After cleansing your face with warm water then pat your skin dry.
Step - 2
Apply the moisturizer onto your skin, gently rub and lightly press your palms and pat the cream on in outwards and upwards motions until it is fully applied to your face and neck.
Step - 3
Use in the morning and in the evening, possibly followed by a moisturizer.
Ingredients
Aqua/Water/Eau, Propanediol, Neopentyl Glycol Diheptanoate, Bertholletia Excelsa Seed Oil, Orbignya Oleifera Seed Oil, Triticum Vulgare Germ Oil/Wheat Germ Oil, Sodium Acrylate/Sodium Acryloyldimethyl Taurate Copolymer, Ammonium Acryloyldimethyltaurate/VP Copolymer, Phenoxyethanol, Parfum/Fragrance, Caprylyl Glycol, Isohexadecane, Carthamus Tinctorius Seed Oil/Safflower Seed Oil, Tocopheryl Acetate, Aloe Barbadensis Leaf Juice Powder, Citric Acid, Silica Silylate, Panthenol, Polysorbate 80, Glycerin, Paullinia Cupana Seed Extract, Limonene, Sorbitan Oleate, Trisodium Ethylenediamine Disuccinate, Hydrolyzed Lepidium Meyenii Root, Sodium Hydroxide, T-Butyl Alcohol, Citral, 1,2-Hexanediol, Coffea Arabica Seed Extract/Coffee Seed Extract, Linalool, Capryloyl Glycine, Sodium Benzoate, Geraniol, Potassium Sorbate, Ci 42090/Blue

More Information

| | |
| --- | --- |
| Solution Type | Moisturizing |
| Brand Name | The Body Shop |
| Manufacturer | The Body Shop |
| Distributed By | RT World Ltd |

Guarana & Coffee Energising Moisturiser For Man বিশেষভাবে ব্রাজিলিয়ান গুয়ারানা এবং ইথিওপিয়ান গ্রিন কফি, এর সাথে আরো আছে Community Fair Trade অ্যালোভেরা নির্যাস দিয়ে তৈরি যা শুধুমাত্র পুরুষদের জন্য। এই ময়েশ্চারাইজার ত্বকে পুষ্টি সরবারহ করে এবং শুষ্ক ত্বককে হাইড্রেড রাখে, ত্বকের পানির ভারসাম্য স্বাভাবিক রাখে এবং ময়েশ্চারাইজ বৃদ্ধির সাথে সাথে কোমল ও প্রাণবন্ত করে। ভেষজ উপাদানের এন্টি অক্সিডেন্ট উপাদান, এই ময়েশ্চারাইজারকে আরো বেশি ত্বকের কোষ শক্তিশালী করে তোলে, ত্বকের কালচে দাগ ধীরে ধীরে কমিয়ে আনে এবং প্রাকৃতিকভাবে ত্বককে আরো মসৃণ ও পরিষ্কার করে তোলে।
বৈশিষ্ট্য
Community Fair Trade অ্যালোভেরা নির্যাস দিয়ে তৈরি যা মেক্সিকো থেকে সংগৃহীত
ব্রাজিলিয়ান গুয়ারানা এবং ইথিওপিয়ান গ্রিন কফি সমৃদ্ধ
ত্বকের উপরের স্তরের অসম্পূর্ণতা কমিয়ে আনে
দীর্ঘসময়ের জন্য ত্বকে হাইড্রেটিং ও ময়েশ্চারাইজিং প্রভাব রাখে
ত্বক টান টান করে মসৃণতা বৃদ্ধি করে
হালকা টেক্সচার ও দ্রুত ত্বকে শোষণ করে
পুরুষদের ত্বকে ব্যবহারের জন্য পরীক্ষিত কোন প্রাণীদেহের উপর পরীক্ষা করা হয়নি
The Body Shop Guarana & Coffee Energising Moisturiser For Man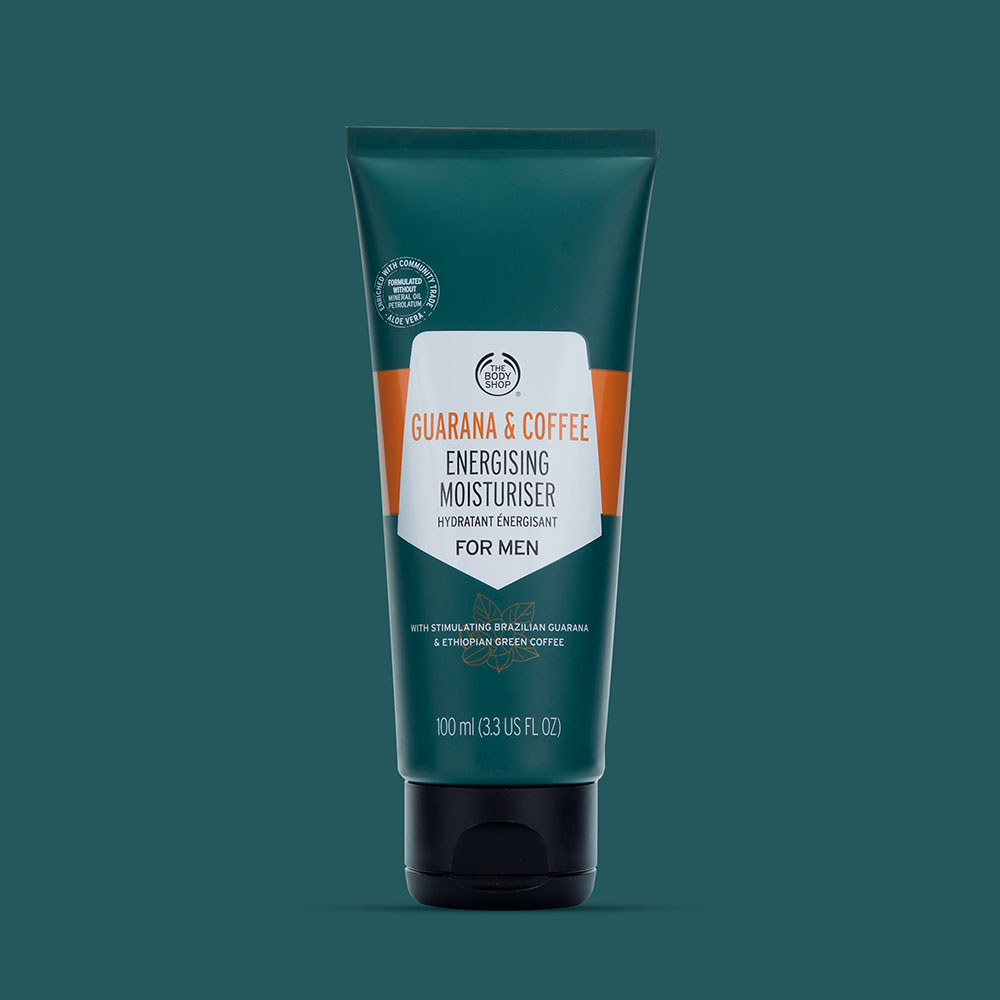 এই কার্যকরী ময়েশ্চারাইজার বিশেষভাবে সব ধরনের পুরুষদের ত্বকের জন্য তৈরি করা হয়েছে এবং এর মধ্যে অপ্রয়োজনীয় কোন উপাদান, রং ও তেল যোগ করা হয়নি। ব্রাজিলিয়ান গুয়ারানা এবং ইথিওপিয়ান গ্রিন কফি সমৃদ্ধ যা ত্বকের যত্নে খুবই কার্যকরী ত্বকে কোন অস্বস্তি অনুভূতি আনে না এবং ত্বকের পোরস বন্ধ না করে অনেক সময়ের জন্য ত্বককে হাইড্রেড রাখে।
ত্বকের গঠন উন্নত করে, ত্বক পরিচ্ছন্ন ও পর্যাপ্ত শক্তি সরবারহ করে, মসৃণ করে তোলে, এই ক্রিমে থাকা উপাদান ত্বকের হাইড্রোলিপিডিক স্তরকে পুনরুদ্ধার করে এবং ত্বকের মলিনতা, রুক্ষতা দূর করে ত্বককে তারুণ্যদীপ্ত ও স্বাস্থ্যকর রাখে। অধিক গুনাগুন সম্পন্ন এই ময়েশ্চারাইজার ত্বককে কোমল রাখার সাথে সাথে ত্বকের শুষ্কতা ও অযথা চামড়া ওঠার সমস্যার সমধান করে।
গুয়ারানা এবং অ্যালোভেরা নির্যাস এন্টি অক্সিডেন্ট, এন্টি মাইক্রোবিয়াল সমৃদ্ধ, এছাড়া খুব হালকা টেক্সচারের হওয়ায় সঠিকভাবে সব ত্বকের সাথে মিশে যায়, বয়সের ভাঁজ পড়া, ঝুলে যাওয়া বা বলিরেখা পড়ার সমস্যার সমাধান করতে সাহায্য করে।
ব্যবহারবিধি
প্রথম ধাপ
প্রথমে আপনার ত্বক ক্লিনজার দিয়ে ভালোভাবে পরিষ্কার করে শুকিয়ে নিন ।
দ্বিতীয় ধাপ
প্রয়োজনীয় পরিমাণ ময়েশ্চারাইজার নিয়ে আপনার মুখে আলতো করে ম্যাসাজ করুন।
তৃতীয় ধাপ
ময়েশ্চারাইজারটি খুব দ্রুতই ত্বকের সাথে মিশে যাবে, সকালে অথবা রাতে এই ক্রিম ব্যবহার করতে পারবেন।
উপকরণ
Aqua/Water/Eau, Propanediol, Neopentyl Glycol Diheptanoate, Bertholletia Excelsa Seed Oil, Orbignya Oleifera Seed Oil, Triticum Vulgare Germ Oil/Wheat Germ Oil, Sodium Acrylate/Sodium Acryloyldimethyl Taurate Copolymer, Ammonium Acryloyldimethyltaurate/VP Copolymer, Phenoxyethanol, Parfum/Fragrance, Caprylyl Glycol, Isohexadecane, Carthamus Tinctorius Seed Oil/Safflower Seed Oil, Tocopheryl Acetate, Aloe Barbadensis Leaf Juice Powder, Citric Acid, Silica Silylate, Panthenol, Polysorbate 80, Glycerin, Paullinia Cupana Seed Extract, Limonene, Sorbitan Oleate, Trisodium Ethylenediamine Disuccinate, Hydrolyzed Lepidium Meyenii Root, Sodium Hydroxide, T-Butyl Alcohol, Citral, 1,2-Hexanediol, Coffea Arabica Seed Extract/Coffee Seed Extract, Linalool, Capryloyl Glycine, Sodium Benzoate, Geraniol, Potassium Sorbate, Ci 42090/Blue

ইনবক্স এ মেসেজ করার পরিবর্তে, সরাসরি আমাদের App অথবা Website এ অর্ডার করলে পণ্য পাওয়ার নিশ্চয়তা বেশি থাকে। কারন, আপনার মেসেজটি আমাদের এজেন্ট পড়ার পূর্বে অন্য ক্রেতা App অথবা Website থেকে কিনে স্টক আউট করে দিতে পারে।
বাংলাশপার্স সবসময় সঠিক স্টক ওয়েবসাইট এ আপডেট করে থাকার চেষ্টা করে। এর পরেও যে কোনো কারণে ওয়েবসাইট এ পণ্যটির সঠিক স্টক আপডেট করা না থাকলে আমরা আপনাকে দ্রুত কল করে জানিয়ে দিবো যেন আপনি আপনার ডেলিভারি সম্পর্কে দ্রুত সিদ্ধান্ত নিতে পারেন।
তাই অতি জরুরী অবস্থার প্রেক্ষিতে অনুগ্রহ করে আমাদের আগে কল করে নিশ্চিত হউন পণ্য টি এখনো স্টক এ আছে কিনা। অন্যথায় কোনো কারণে ডেলিভারি বিলম্ব হলে আমরা দায়ী থাকবো না।
মোবাইল ভার্সন - https://www.youtube.com/watch?v=EfEFMpwEttI