The Body Shop - Olive Nourishing Body Butter - 200ml
Special Price
TK 1,559.00
Regular Price
TK 1,750.00
Ingredients: Aqua (Water) (Solvent/Diluent), Olea Europaea (Olive) Oil (Emollient), Cyclomethicone (Emollient), Butyrospermum Parkii (Shea Butter) (Emollient), Theobroma Cacao (Cocoa) Butter (Emollient), Glycerin (Humectant), Glyceryl Stearate (Emulsifier), Peg-100 Stearate (Surfactant), Cetearyl Alcohol (Emulsifier), Lanolin Alcohol (Stabiliser/Emollient), Phenoxyethanol (Preservative), Parfum (Fragrance), Methylparaben (Preservative), Propylparaben (Preservative), Xanthan Gum (Viscosity Modifier), Benzyl Alcohol (Preservative), Disodium Edta (Chelating Agent), Linalool (Fragrance Ingredient), Butylphenyl Methylpropional (Fragrance Ingredient), Limonene (Fragrance Ingredient), Citronellol (Fragrance Ingredient), Hexyl Cinnamal (Fragrance Ingredient), Hydroxyisohexyl 3-Cyclohexene Carboxaldehyde (Fragrance Ingredient), Geraniol (Fragrance Ingredient), Citral (Fragrance Ingredient), Sodium Hydroxide (Ph Adjuster), Eugenol (Fragrance Ingredient), Caramel (Colour), Ci 77288 (Colour)

Our Olive Nourishing Body Butter gives your skin a dose of ultra-rich hydration for very dry skin with a lavish 48 hours of hydration. It's moisturizing, buttery, and hydrating effect, penetrate the outermost layer of the skin to help heal dry skin for long periods of time and a luxurious tub of nourishing moisture for the skin. Enriched with Community Fair Trade organic olive oil from Italy, for skin this nature-inspired formula is ultra-nourishing and long-lasting moisturization with mediterranean, fresh, delicate scent
Features
Enriched with Community Fair Trade shea and cocoa butter from Ghana, organic olive oil from Italy
Moisturizes to heal dry, extra-dry and even sensitive skin
Brings out your skin's natural softness and smoothness
Easily absorbed for a non-greasy feel
Helps soothe and restores sensitive, dry skin
Provides 48hr fresh, sweet scent and hydration
Hypoallergenic fragrance and dermatologically tested
The Body Shop - Olive Nourishing Body Butter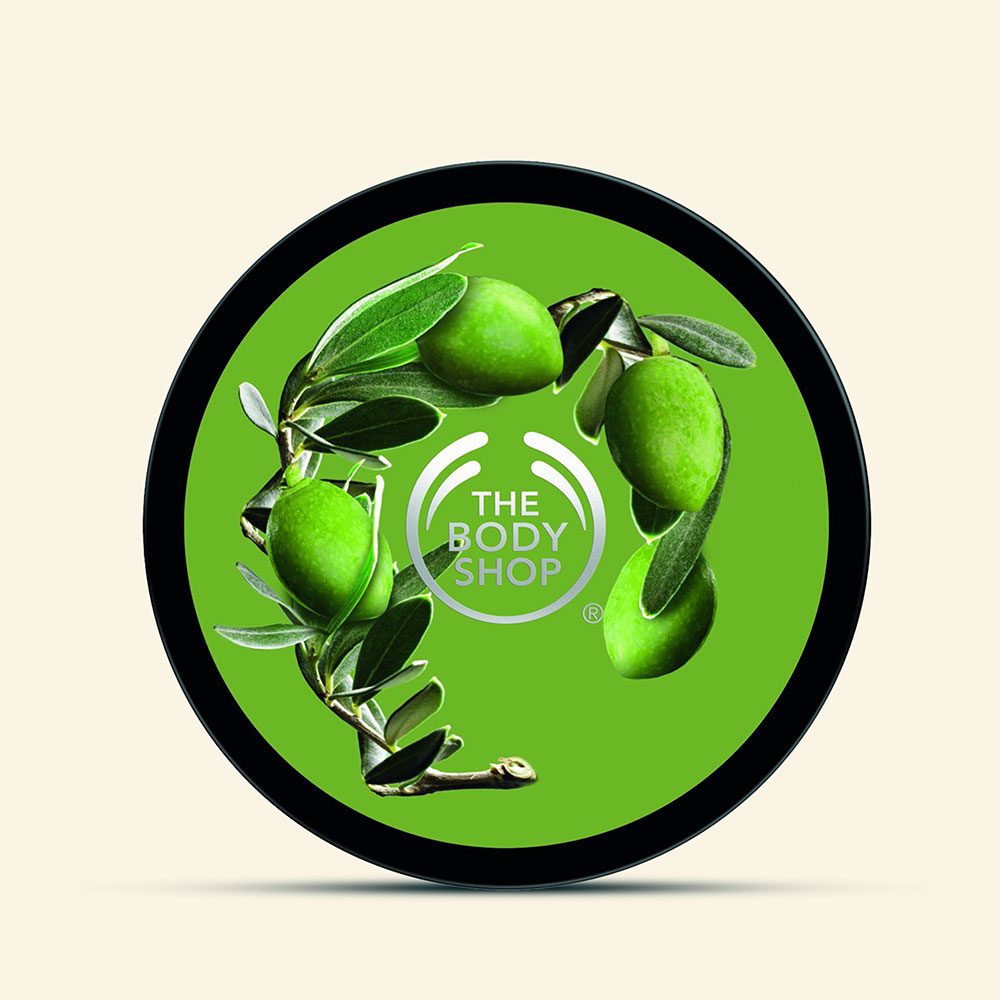 Formulated with Olive Nourishing Body Butter to restore damaged skin from deep within* leaving your skin deeply moisturized and hydrated for longer. This body moisturizer gives you a natural glow with soft and silky-smooth skin. Use this Body Shop's Olive Nourishing Body Butter every day for smooth, bright, and radiant looking skin.
Olive butter contains the moisturizing and antioxidant properties of olive oil with the deep moisturizing and skin nourishing qualities of Shea butter to create an extra-rich emollient for keep your skin feeling healthy. With active hydrating system organic olive oil and shea butter to help bring out naturally moisturize skin.
This body butter moisturizes with olive oil and shea butter that deep down to help heal dry skin. With such nourishing ingredients, The Body Shop's Olive Nourishing Body Butter is the perfect skin care body butter for maintaining smooth, soft, healthy and glowing skin.
How To Use
Step - 1: Cleansing
The best time to apply body butter is just after a shower and pat your face and body properly.
Step - 2: Application of Body Butter
Take a small amount of body butter to your fingers and then rub it softly into the desired area, wait until fully absorbed.
Step - 3: Absorb
After you've completely applied this butter, it's fully disappeared into your skin. Don't rinse off, to lock in moisture and keep your skin hydrated.
Ingredients
Aqua (Water) (Solvent/Diluent), Olea Europaea (Olive) Oil (Emollient), Cyclomethicone (Emollient), Butyrospermum Parkii (Shea Butter) (Emollient), Theobroma Cacao (Cocoa) Butter (Emollient), Glycerin (Humectant), Glyceryl Stearate (Emulsifier), Peg-100 Stearate (Surfactant), Cetearyl Alcohol (Emulsifier), Lanolin Alcohol (Stabiliser/Emollient), Phenoxyethanol (Preservative), Parfum (Fragrance), Methylparaben (Preservative), Propylparaben (Preservative), Xanthan Gum (Viscosity Modifier), Benzyl Alcohol (Preservative), Disodium Edta (Chelating Agent), Linalool (Fragrance Ingredient), Butylphenyl Methylpropional (Fragrance Ingredient), Limonene (Fragrance Ingredient), Citronellol (Fragrance Ingredient), Hexyl Cinnamal (Fragrance Ingredient), Hydroxyisohexyl 3-Cyclohexene Carboxaldehyde (Fragrance Ingredient), Geraniol (Fragrance Ingredient), Citral (Fragrance Ingredient), Sodium Hydroxide (Ph Adjuster), Eugenol (Fragrance Ingredient), Caramel (Colour), Ci 77288 (Colour)

More Information

| | |
| --- | --- |
| Cream Type | All Day Cream |
| Skin Type | All Types of Skin |
| Solution Type | Moisturizing |
| Brand Name | The Body Shop |
| Manufacturer | The Body Shop |
| Country of Manufacture | Germany |
| Distributed By | RT World Ltd |

আমাদের Olive Nourishing Body Butter আলট্রা হাইড্রেশন ক্ষমতা সম্পন্ন এই বাটার ৪৮ ঘণ্টার জন্য শুষ্ক ত্বককে হাইড্রেড রাখে। ময়েশ্চারাইজ ক্ষমতা সম্পন্ন, মখমলের মতো কোমলতা আনে ও ত্বকের উপরের স্তরে সহজে প্রবেশ করে শুষ্ক ত্বকের ক্ষত সাড়িয়ে অনেক সময়ের জন্য ত্বক হাইড্রেড রাখে ও পুষ্টি ভারসাম্য আনে। এই বডি বাটারে আছে Community Fair Trade এর অর্গানিক অলিভ অয়েল যা ইতামি থেকে সংগৃহীত ও শিয়া বাটার, প্রাকৃতিক ফর্মুলা দীর্ঘসময়ের জন্য ত্বকের ময়েশ্চারাইজ ধরে রাখে এর সাথে আরো আছে সতেজ করা মহনীয় সুবাস।
বৈশিষ্ট্য
Community Fair Trade এর অর্গানিক অলিভ অয়েল, ঘানা থেকে সংগৃহীত নারকেল ও শিয়া বাটার দিয়ে তৈরি
শুষ্ক ও সেন্সেটিভ ত্বকের ক্ষত নিরাময়ে কাজ করে
ত্বকে প্রাকৃতিক কোমলতা ও মসৃণতা নিয়ে আসে
চিটচিটে ভাবহীন দ্রুত ত্বকে প্রবেশ করে
ত্বকের ক্ষত সাড়িয়ে আরাম প্রদান করে ত্বক পুনর্গঠনে সাহায্য করে
সতেজ ও মিষ্টি সুবাস প্রদান করে ৪৮ ঘণ্টা ত্বক হাইড্রেড রাখে
পোরস বন্ধ করে না এবং ত্বক বিশেষজ্ঞ দ্বারা পরীক্ষিত
The Body Shop - Olive Nourishing Body Butter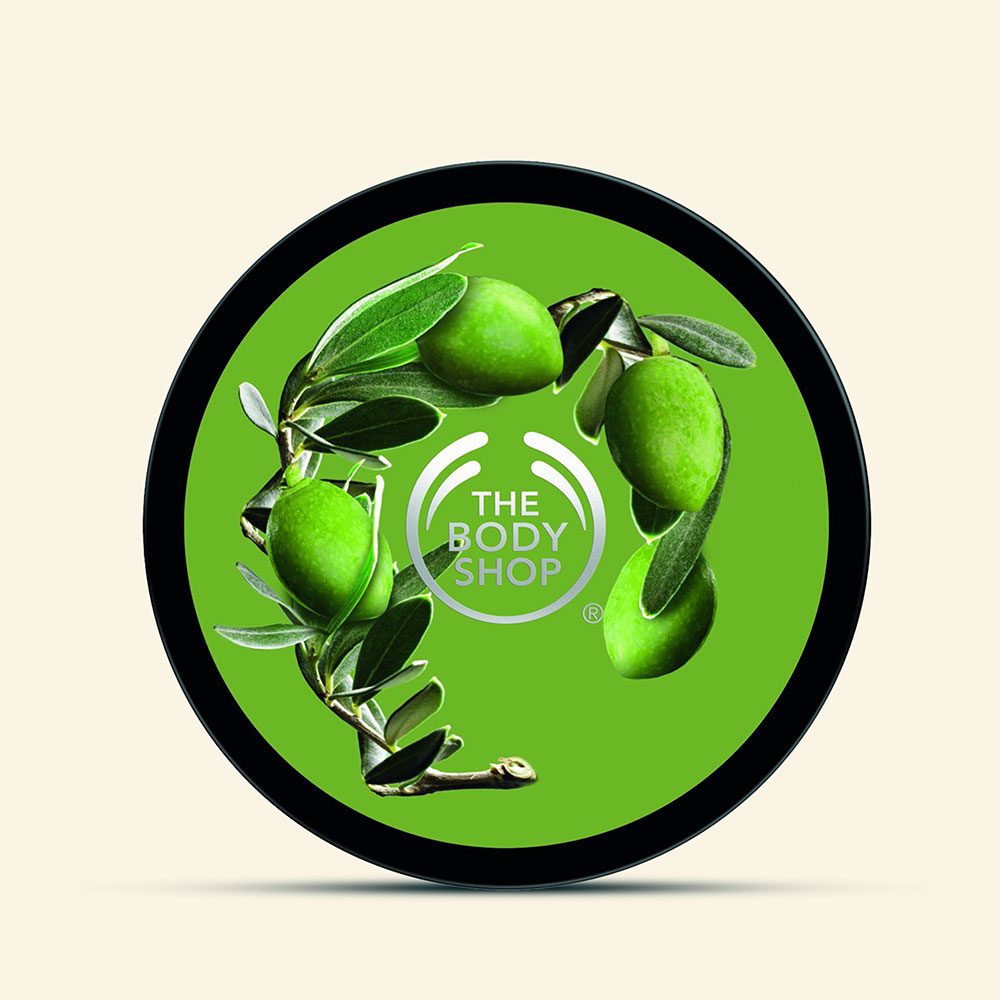 Olive Nourishing Body Butter ত্বকের ক্ষত সাড়িয়ে গভীর থেকে ত্বককে ময়েশ্চারাইজ করে এবং অনেক সময় ধরে হাইড্রেড রাখে। এই বডি বাটার ত্বকের স্বাভাবিক উজ্জ্বলতা আনে এবং ত্বককে কোমল ও প্রাণবন্ত দেখায়। Olive Nourishing Body Butter প্রতিদিন ব্যবহারে ত্বক হয়ে ওঠে আরো মসৃণ, উজ্জ্বল ও দীপ্তিময়।
Olive Nourishing Body Butter ময়েশ্চারাইজিং ও এন্টি অক্সিডেন্ট গুনাগুন সম্পন্ন অলিভ অয়েল দিয়ে তৈরি যা ত্বককে গভীর থেকে ময়েশ্চারাইজ করে এবং শিয়া বাটারের বাড়তি ত্বকের অসম্পূর্ণতা দূর করার ক্ষমতা ত্বককে স্বাস্থ্যকর ভাবে উপস্থাপন করে। এই ময়েশ্চারাইজারে থাকা ত্বক হাইড্রেড করার প্রক্রিয়া অলিভ অয়েল ও শিয়া বাটার ত্বককে প্রাকৃতিকভাবে ময়েশ্চারাইজ রাখে।
Olive Nourishing Body Butter এ থাকা অলিভ অয়েল ও শিয়া বাটার ত্বককে গভীর থেকে ক্ষত সাড়িয়ে তোলে আর্দ্র ও পুষ্টি সমৃদ্ধ করে তোলে। এছাড়া ত্বকের যত্নের সাথে সাথে ত্বককে স্বাভাবিকভাবে মসৃণ, কোমল, স্বাস্থ্যকর করে উজ্জ্বলতা বাড়িয়ে দেয়।
ব্যবহারবিধি
প্রথম ধাপ
এই বাটারটি লাগানোর আগে মুখ এবং হাত পা ভালো করে ধুয়ে পরিষ্কার তোয়ালে দিয়ে শুকিয়ে নিতে হবে।
দ্বিতীয় ধাপ
শুকানোর পর পরিমান মতো বাটার নিয়ে শরীরের নির্দিষ্ট অংশে আলতোভাবে ম্যাসাজ করে লাগাতে হবে। ত্বকে ভালোভাবে প্রবেশ করে নেওয়ার জন্য সময় দিতে হবে।
তৃতীয় ধাপ
এই বডি বাটারটি লাগানোর সাথে সাথে পুরোপুরি ত্বক শোষণ করে নেয়। সাধারনত গোসলের পর এই বাটার লাগাতে হবে এবং লাগানোর পর ধুয়ে ফেলা যাবে না।
উপকরণ
Aqua (Water) (Solvent/Diluent), Olea Europaea (Olive) Oil (Emollient), Cyclomethicone (Emollient), Butyrospermum Parkii (Shea Butter) (Emollient), Theobroma Cacao (Cocoa) Butter (Emollient), Glycerin (Humectant), Glyceryl Stearate (Emulsifier), Peg-100 Stearate (Surfactant), Cetearyl Alcohol (Emulsifier), Lanolin Alcohol (Stabiliser/Emollient), Phenoxyethanol (Preservative), Parfum (Fragrance), Methylparaben (Preservative), Propylparaben (Preservative), Xanthan Gum (Viscosity Modifier), Benzyl Alcohol (Preservative), Disodium Edta (Chelating Agent), Linalool (Fragrance Ingredient), Butylphenyl Methylpropional (Fragrance Ingredient), Limonene (Fragrance Ingredient), Citronellol (Fragrance Ingredient), Hexyl Cinnamal (Fragrance Ingredient), Hydroxyisohexyl 3-Cyclohexene Carboxaldehyde (Fragrance Ingredient), Geraniol (Fragrance Ingredient), Citral (Fragrance Ingredient), Sodium Hydroxide (Ph Adjuster), Eugenol (Fragrance Ingredient), Caramel (Colour), Ci 77288 (Colour)

ইনবক্স এ মেসেজ করার পরিবর্তে, সরাসরি আমাদের App অথবা Website এ অর্ডার করলে পণ্য পাওয়ার নিশ্চয়তা বেশি থাকে। কারন, আপনার মেসেজটি আমাদের এজেন্ট পড়ার পূর্বে অন্য ক্রেতা App অথবা Website থেকে কিনে স্টক আউট করে দিতে পারে।
বাংলাশপার্স সবসময় সঠিক স্টক ওয়েবসাইট এ আপডেট করে থাকার চেষ্টা করে। এর পরেও যে কোনো কারণে ওয়েবসাইট এ পণ্যটির সঠিক স্টক আপডেট করা না থাকলে আমরা আপনাকে দ্রুত কল করে জানিয়ে দিবো যেন আপনি আপনার ডেলিভারি সম্পর্কে দ্রুত সিদ্ধান্ত নিতে পারেন।
তাই অতি জরুরী অবস্থার প্রেক্ষিতে অনুগ্রহ করে আমাদের আগে কল করে নিশ্চিত হউন পণ্য টি এখনো স্টক এ আছে কিনা। অন্যথায় কোনো কারণে ডেলিভারি বিলম্ব হলে আমরা দায়ী থাকবো না।
মোবাইল ভার্সন - https://www.youtube.com/watch?v=EfEFMpwEttI