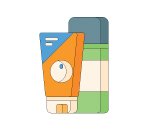 BanglaShoppers knows how important hair care is to our valued customers. This is why we have made a huge effort to bring you the best in name brand shampoo and conditioner. Just like each person is unique, we also have unique needs for our different hair types and even skin types. Oilier skin can mean and oilier scalp, and the same holds true for dry skin and scalp. In some rare cases, a person can have dry skin and an oily scalp or vise versa. But fear not! We live in the best day and age yet when it comes to personal care, and Banglashoppers has made it our mission to bring you a wide selection of name brand shampoo and conditioner. We should all be able to find the products we want from companies we trust and at prices we can afford!
We guarantee all of our name brand product lines. We import all of our inventory from the countries of manufacture and distribution. No longer do you have to worry yourself with international shipping restrictions and amazingly high international shipping charges. Not only do we offer a variety of hair care products, we promise you the best price in Bangladesh. If you find one of our products online for a cheaper price, then you simply send us a screenshot of that website. We will BEAT their price by 10%! That's a deal no one can beat! Please see our terms and conditions for our Price Beat policy.
Not only will we beat the prices of others, we also offer FREE SHIPPING on orders over 2,000 Taka! Now you can order all of your hair care needs, including name brand shampoo and conditioner, at a price you can afford.
SHAMPOO
Shampooing is important for clean, healthy hair. Not only does it benefit your hair, it is most beneficial for your scalp. If you want to grow luscious and healthy hair, then you need to start with a healthy scalp. However, there are other factors that matter when it comes to the individual needs of your scalp. Different products can help to deliver results for your specific needs. Individuals with oily hair will need a stronger shampoo made for oily scalps and will have to shampoo more often. If you have a very dry scalp, you may benefit from shampooing less often. You will also want to find a gentle, moisturizing shampoo. Needs can go beyond the scalp, however. Some people need a thickening boost of volume, which can be enhanced with the correct shampoo. Damaged hair needs a gentle shampoo that will help to moisturize the damaged strands. Dull hair can be improved with a shampoo that increases shine. There are even shampoos to help with frizz, product buildup, and more.
Even men and women can have different needs with shampoos, based upon the average lengths of hair as well as how men and women prefer to smell. This does not mean that you can't switch it out, though. If you are a man with longer hair, you can benefit from using a shampoo aimed towards women. If you are a woman with shorter hair, you may prefer a men's shampoo. It's totally up to you what you decide is best for your personal beauty needs!
We offer name brand hair care for the needs of both women and men. Some of the name brands we offer in shampoos (and conditioners) include:
Schwarzkopf
L'Oreal
Xpel
Creightons
Aussie
Enliven
Inecto
Tresemme
Kumano
Kerasys
CONDITIONER
Conditioning is just as important as shampooing when it comes to hair care. Even if you have an oily scalp, using the right conditioner is essential if you want your hair to shine through at its best. And just like with shampoo, you will need to select the right conditioner. If at any point you are confused about what kind of products you need, you can ask a stylist or barber to help you make the right choice. Sometimes even a friend can take a look and ask you a few questions to help you in your selection.
If you have an oily scalp and hair, you will want to choose a light every day conditioner. One important step is to remember to rinse it completely. If you have a dry scalp and hair, then you will want a stronger conditioner, and you don't even need to rinse it fully in some cases. We carry conditioners in the same name brands as shampoos listed above.
DEEP CONDITIONING
Many of the top stylists in the world of cosmetology say that deep conditioning is a must for everyone with all hair types. This is a treatment that you do on average once a week. Some people like to do them more or less than this, but you should consider adding this to your regimen if you haven't already. It will help to keep your hair moisturized, keeping it healthy and able to grow long. We offer deep conditioners for curly hair and even argan oil deep conditioner.
CHECK IT OUT!
Remember if you want to look your best, you need to take care of those tresses! We all want to be able to do that with products we can trust at a price we can afford. If you are looking for the best prices in name brand shampoo and conditioner, then head on over to Banglashoppers.com right now and shop our selection! Don't forget about our Price Beat guarantee! Happy shopping and may your hair reflect the beauty that lies within you!