Aveeno Daily Moisturising Body Lotion - 200ml
Special Price
TK 1,150.00
Regular Price
TK 1,990.00
Ingredients: Water, Glycerin, Distearyldimonium Chloride, Petrolatum, Isopropyl Palmitate, Cetyl Alcohol, Avena Sativa (Oat) Kernel Flour, Benzyl Alcohol, Sodium Chloride

AVEENO® Daily Moisturising Body Lotion formulated with soothing oatmeal and rich emollients, the fragrance-free and fast absorbing formula that locks in moisture to help protect and nourish normal to dry skin. This lotion leaves your skin feeling soft, smooth and protect dry skin for a full 24 hours. It's also nongreasy, noncomedogenic and naturally healthy looking and is gentle enough for everyday use.
Features
Replenishes moisture for softer and smoother skin
Help protect and nourish normal to dry skin
Protect from sun damage and heals skin
Contains with Colloidal Oatmeal and rich emollients
Increases skin elasticity and soothes skin irritation
Light-texture and absorbs quickly
Aveeno Daily Moisturising Body Lotion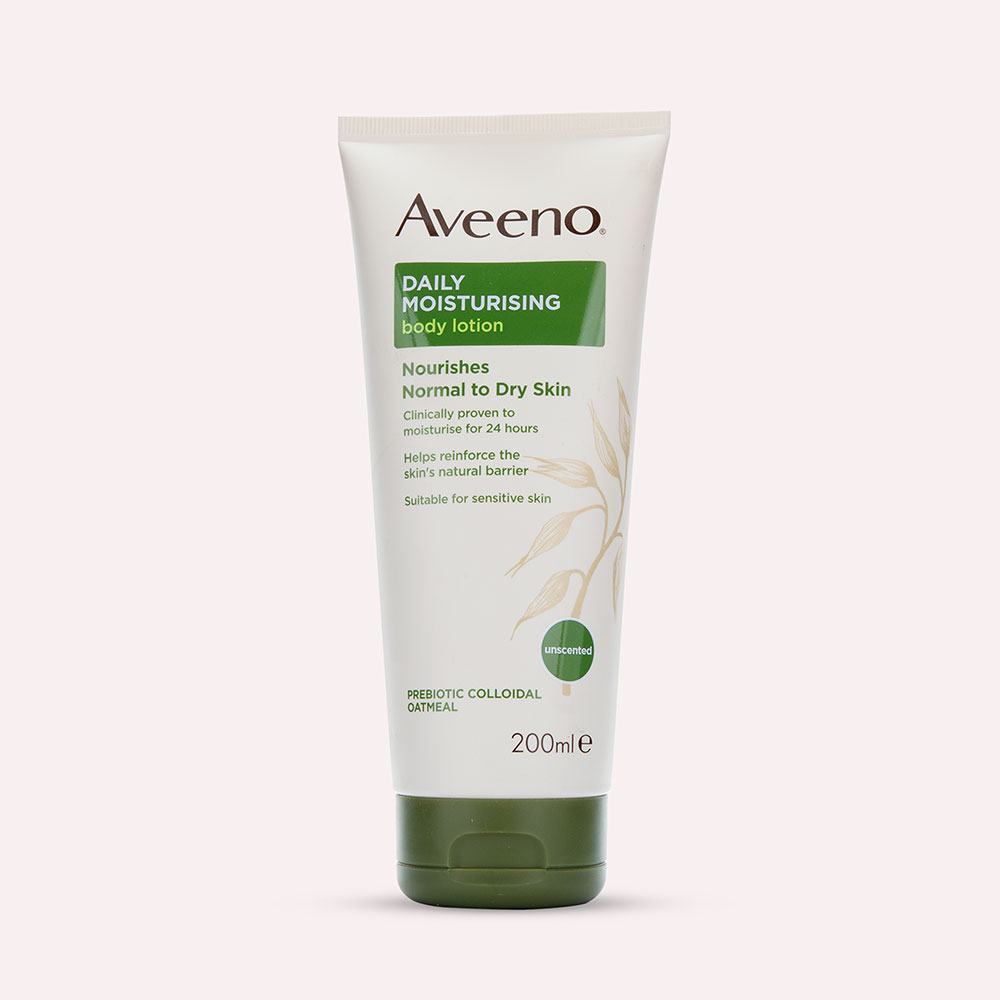 This lotion is clinically shown to help moisturize and relieve dryness with Colloidal Oatmeal and rich emollients, it preserves the skin's natural microbiome for healthy looking and rich emollients that helps soothe, soften, and increase moisture levels.
Colloidal oatmeal has antioxidant and anti-inflammatory properties that works as an emollient by adding moisture to the skin, keeps the skin soft and prevents it from feeling itchy. It can also give relief to irritated skin, prevent redness and inflammation.
This lotion is perfectly absorbed which light texture lets it be evenly distributed over the skin and boosts up immunity, helps to reduce facial wrinkles and fights the signs of premature aging.
How To Use
Step - 1
After taking shower, washing and sanitizing your hands apply the body lotion, when you feel your skin need moisturize.
Step - 2
Place a required amount of this lotion into the palm of your hand and applying from the bottom up.
Step - 3
Use both hands to massage the lotion in gentle circular motions onto a small area of skin. It will be absorbed very quickly.
Ingredients
Active Ingredients: Dimethicone (1.2 %)
Inactive Ingredients: Water, Glycerin, Distearyldimonium Chloride, Petrolatum, Isopropyl Palmitate, Cetyl Alcohol, Avena Sativa (Oat) Kernel Flour, Benzyl Alcohol, Sodium Chloride

More Information

| | |
| --- | --- |
| Cream Type | Lotion |
| Skin Type | All Types of Skin |
| Solution Type | Moisturizing |
| Brand Name | Aveeno |
| Manufacturer | Aveeno |
| Country of Manufacture | France |
| Distributed By | RT World Ltd |

AVEENO® Daily Moisturising Body Lotion এ আছে বিশেষ ফর্মুলা যা ত্বকের ক্ষত নিরাময়ে উপকারী প্রাক-বায়োটিক কলয়েডাল ওটমিল ও উচ্চ ইমোলিয়েন্টস ক্ষমতা সম্পন্ন, কোন ধরনের সুগন্ধ নেই এবং দ্রুত ত্বকে প্রবেশ করে ত্বকের ময়েশ্চারাইজ লক করে ত্বককে সুরক্ষিত রাখে এবং নর্মাল থেকে শুষ্ক ত্বকে পুষ্টি সরবারহ করে। এই লোশন ত্বককে কোমল, মসৃণ এবং ২৪ ঘণ্টার জন্য শুষ্কতা কমিয়ে ত্বককে সুরক্ষিত রাখে। কোন ধরনের চিটচিটে ভাব নেই, পোরস বন্ধ করে না, স্বাস্থ্যকর করে তোলে এবং প্রতিদিনের ব্যবহারের জন্য উপযোগী।
বৈশিষ্ট্য
ত্বকের ময়েশ্চারাইজ পুনরায় পূরণ করে ত্বককে কোমল ও মসৃণ করে
নর্মাল থেকে শুষ্ক ত্বককে পুষ্টি প্রদান করে সুরক্ষিত রাখে
সূর্যের ক্ষতি থেকে ত্বককে রক্ষা করে ও ক্ষত নিরাময় করে
প্রাক-বায়োটিক কলয়েডাল ওটমিল ও উচ্চ ইমোলিয়েন্টস ক্ষমতা সম্পন্ন
ত্বককে টান টান করে এবং ত্বকে অস্বস্তিভাব হয়ে থাকলে আরাম প্রদান করে
হালকা টেক্সচার ও দ্রুত ত্বকে প্রবেশ করে
Aveeno Daily Moisturising Body Lotion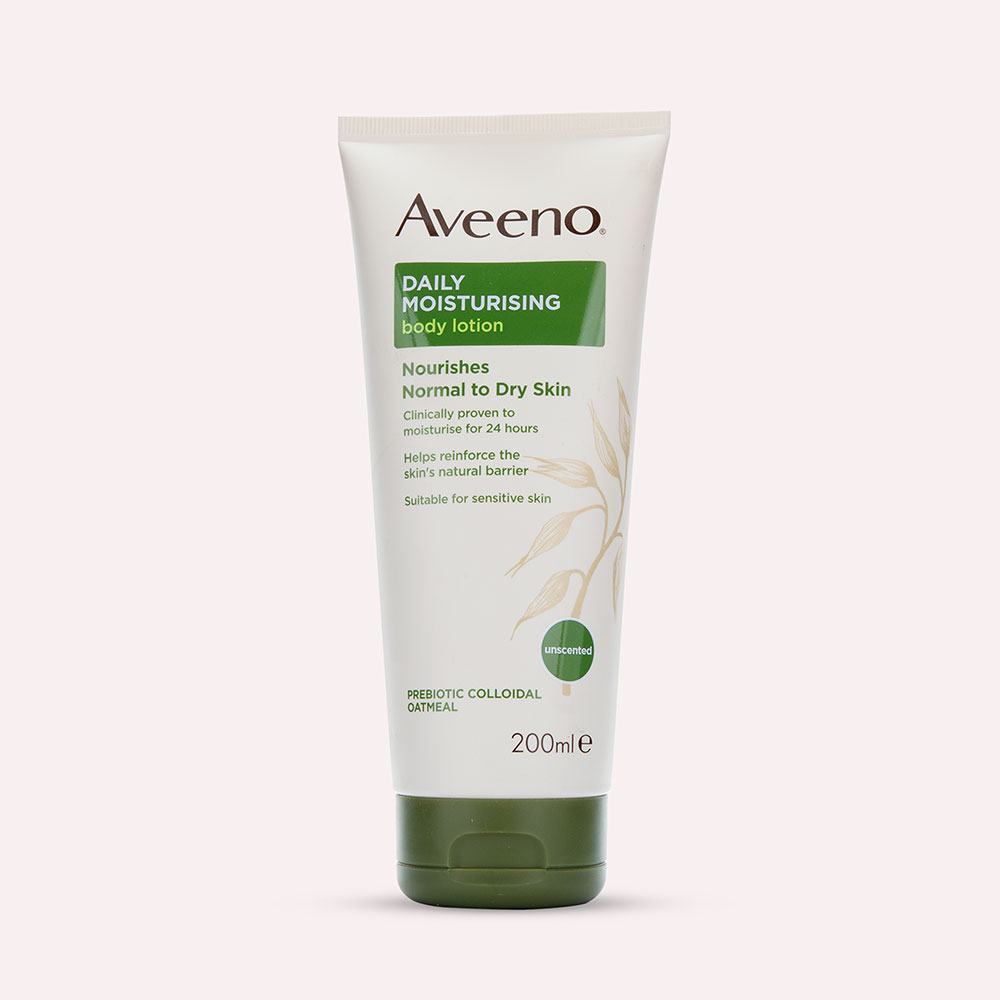 এই লোশন ক্লিনিক্যালি প্রমাণিত যা ময়েশ্চারাইজ রাখে সাহায্য করে এবং শুষ্কতা কমিয়ে আরাম প্রদান করে কারণ এতে আছে কলয়েডাল ওটমিলের গুনাগুন যা প্রাকৃতিকভাবে ত্বককে স্বাস্থ্যকর করে তুলতে সাহায্য করে এবং উচ্চ ইমোলিয়েন্টসের ক্ষমতা ত্বকের ক্ষত সাড়িয়ে তুলে, নরম রাখে এবং ময়েশ্চারাইজ লেভেল বৃদ্ধি করে।
কলয়েডাল ওটমিলে আছে এন্টি অক্সিডেন্ট ও এন্টি ইনফ্লেমেটরি ক্ষমতা যা ত্বকের ময়েশ্চারাইজ ধরে রাখে, ত্বককে কোমল ও চুলকনি বা অস্বস্তিভাব থেকে উপশম করে আরাম প্রদান করে। এছাড়া ত্বকে অতিরিক্ত শুষ্কতার কারণে যে অস্বস্তি ভাব হয়ে থাকে, লালচে দাগ ও মৃত চামড়া ওঠার সমস্যার সমাধান করে।
এই লোশন পুরোপুরিভাবে ত্বকে মিশে যায় যা খুবই হালকা টেক্সচারের সম্পূর্ণ ত্বকের পুষ্টির ভারসাম্য রাখে এবং ইমিউনিটি বুস্ট করে, বয়সের কারণে ত্বকে বলিরেখা বা ভাঁজ পড়তে দেয় না বা সম্ভাবনা কমিয়ে নিয়ে আসে।
ব্যবহারবিধি
প্রথম ধাপ
সাধারণত গোসলের পর বা হাত, পা পরিষ্কার করার পর এই লোশনটি এপ্লাই করতে পারেন অথবা যখন আপনার ত্বক বেশি শুষ্ক মনে হলে তখনও এই লোশন এপ্লাই করে নিতে পারেন।
দ্বিতীয় ধাপ
প্রয়োজন মতো লোশন নিয়ে শরীরের নির্দিষ্ট এরিয়াতে আস্তে আস্তে ম্যাসাজ করে এপ্লাই করে নিন।
তৃতীয় ধাপ
দুই হাতে লোশন নিয়ে ধীরে ধীরে ম্যাসাজ করতে হবে এবং লোশনটি খুব দ্রুত ত্বক শোষণ করে নেয়।
উপকরণ
সক্রিয় উপাদান: Dimethicone (1.2 %)
নিস্ক্রিয় উপাদান: Water, Glycerin, Distearyldimonium Chloride, Petrolatum, Isopropyl Palmitate, Cetyl Alcohol, Avena Sativa (Oat) Kernel Flour, Benzyl Alcohol, Sodium Chloride

ইনবক্স এ মেসেজ করার পরিবর্তে, সরাসরি আমাদের App অথবা Website এ অর্ডার করলে পণ্য পাওয়ার নিশ্চয়তা বেশি থাকে। কারন, আপনার মেসেজটি আমাদের এজেন্ট পড়ার পূর্বে অন্য ক্রেতা App অথবা Website থেকে কিনে স্টক আউট করে দিতে পারে।
বাংলাশপার্স সবসময় সঠিক স্টক ওয়েবসাইট এ আপডেট করে থাকার চেষ্টা করে। এর পরেও যে কোনো কারণে ওয়েবসাইট এ পণ্যটির সঠিক স্টক আপডেট করা না থাকলে আমরা আপনাকে দ্রুত কল করে জানিয়ে দিবো যেন আপনি আপনার ডেলিভারি সম্পর্কে দ্রুত সিদ্ধান্ত নিতে পারেন।
তাই অতি জরুরী অবস্থার প্রেক্ষিতে অনুগ্রহ করে আমাদের আগে কল করে নিশ্চিত হউন পণ্য টি এখনো স্টক এ আছে কিনা। অন্যথায় কোনো কারণে ডেলিভারি বিলম্ব হলে আমরা দায়ী থাকবো না।
মোবাইল ভার্সন - https://www.youtube.com/watch?v=EfEFMpwEttI