COSRX Salicylic Acid Daily Gentle Cleanser - 150ml
Special Price
TK 1,150.00
Regular Price
TK 1,400.00
Stock:
More than 10 available
Ingredients: Water, Glycerin, Myristic Acid, Stearic Acid, Potassium Hydroxide, Lauric Acid, Butylene Glycol, Glycol Distearate, Polysorbate 80, Sodium Methyl Cocoyl Taurate, Salicylic Acid, Cocamidopropyl Betaine, PEG-60 Hydrogenated Castor Oil, Fragrance, Sodium Chloride, Melaleuca Alternigolia (Tea Tree) Leaf Oil, Caprylyl Glycol, Ethylhexylglycerin, Salix Alba (Willow) Bark Water, Saccharomyces Ferment, Cryptomeria Japonica Leaf Extract, Nelumbo Nucifera Leaf Extract, Pinus Palustris Leaf Extract, Ulmus Davidiana Root Extract, Oenothera Biennis (Evening Primrose) Flower Extract, Pueraria Lobata Root Extract, 1,2-Hexanediol, Ethyl Hexanediol, Citric Acid, Disodium EDTA

COSRX Salicylic Acid Daily Cleanser is formulated with Salicylic Acid which gently removes impurities and excess sebum while fighting acnes and blemishes, leaving skin soft and smooth without the stripping feeling. So skin looks clearer and feels healthier without over-irritating and refreshing that thoroughly removes dirt, oil and dead skin cells while providing long-lasting glow. This clean-rinsing cleanser oil-free that contains Salicylic Acid to help get rid of acne, prevent future breakouts, dissolves and washes away oil, dirt and skin-dulling impurities that can build up in pores.
Features
Removes acne cause oil, dirt and bacteria
Deeply cleanses the skin
Reduce facial redness
Works as a gentle exfoliation
Specifically for acne-prone skin
Contains with salicylic acid
Dermatologist tested, oil free, non comedogenic
Suitable for men and women
COSRX Salicylic Acid Daily Gentle Cleanser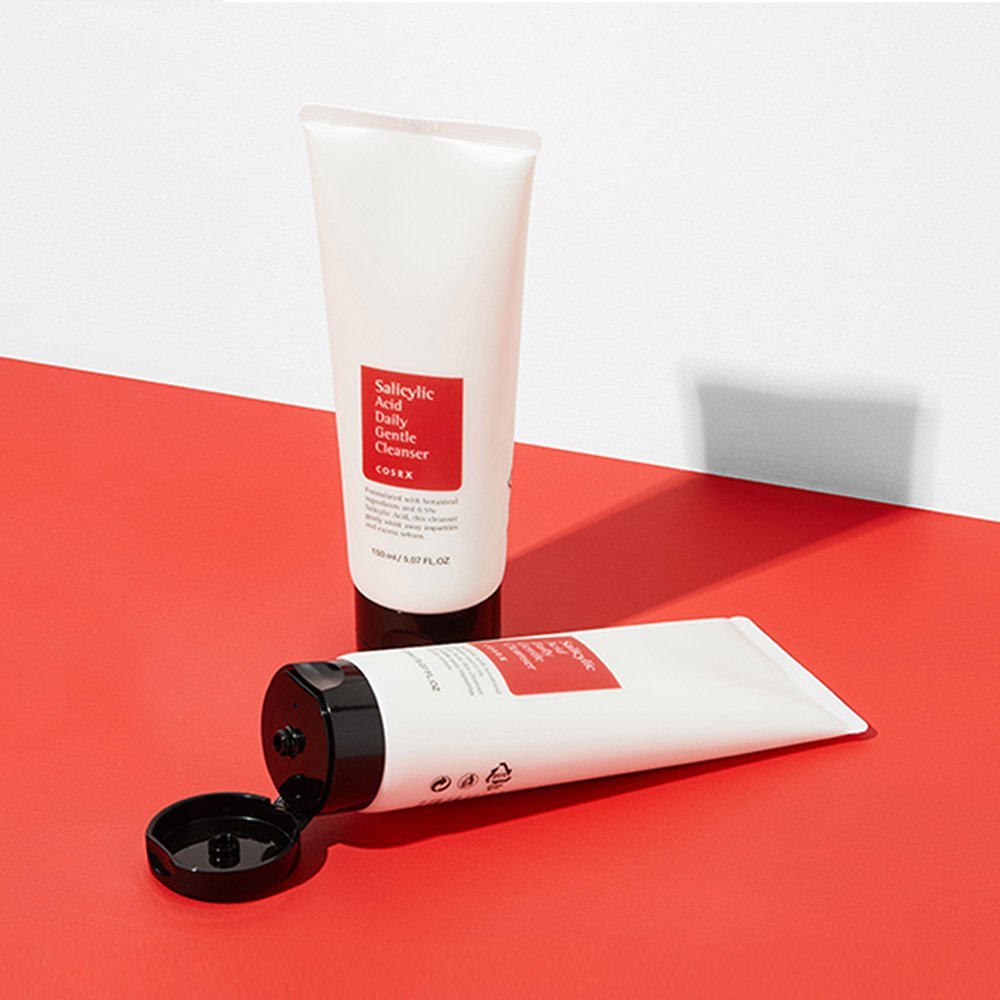 This Cleanser to help fight breakouts and visibly reduce redness caused by acne. Salicylic Acid which efficiently improves the appearance of acne spots and dark marks is reduced and after regular use your skin will feel firmer and more elastic. This special skin soothers help prevent irritation and over-drying.
Salicylic Acid has anti-inflammatory properties, allowing medicine to penetrate to the source of breakouts, unclogging congested pores and removing dirt and impurities. It is also extremely beneficial to those with irritated and acne-prone skin, nor tighten the skin, and prepares it for further care. This cleanser purifies the skin pores deeply, helps maintain the skin's natural moisture balance, provides a refreshing feeling and comforts the skin.
It has antioxidant properties, a lightweight hydrating cleanser that developed specifically for acne-prone skin. Face cleanser is formulated with Salicylic Acid helps calm irritation to visibly reduce facial redness and so skin looks clearer and feels healthier.
How To Use
Step - 1
At first wet your skin with plenty of warm water or moisten a towel and use that to wet your skin.
Step - 2
Use a dime-sized amount of cleanser. Apply it to your face and keep massaging in a circular motion for few seconds.
Step - 3
Rinse off with warm water and use a soft towel to pat your face dry.
Ingredients
Ingredients Water, Glycerin, Myristic Acid, Stearic Acid, Potassium Hydroxide, Lauric Acid, Butylene Glycol, Glycol Distearate, Polysorbate 80, Sodium Methyl Cocoyl Taurate, Salicylic Acid, Cocamidopropyl Betaine, PEG-60 Hydrogenated Castor Oil, Fragrance, Sodium Chloride, Melaleuca Alternigolia (Tea Tree) Leaf Oil, Caprylyl Glycol, Ethylhexylglycerin, Salix Alba (Willow) Bark Water, Saccharomyces Ferment, Cryptomeria Japonica Leaf Extract, Nelumbo Nucifera Leaf Extract, Pinus Palustris Leaf Extract, Ulmus Davidiana Root Extract, Oenothera Biennis (Evening Primrose) Flower Extract, Pueraria Lobata Root Extract, 1,2-Hexanediol, Ethyl Hexanediol, Citric Acid, Disodium EDTA

More Information

| | |
| --- | --- |
| Skin Type | All Types of Skin |
| Solution Type | Acne/Blemish Spot Control |
| Brand Name | CosRx |
| Manufacturer | CosRX |
| Country of Manufacture | South Korea |
| Distributed By | Belaface Limited |

COSRX Salicylic Acid Daily Cleanser স্যালিসালিক এসিড ফর্মুলাযুক্ত যা মৃদুভাবে ত্বকের অসম্পূর্ণতা এবং অতিরিক্ত সিবাম নিয়ন্ত্রণ করে একনি ও অবাঞ্ছিত দাগের সাথে যুদ্ধ করে, কোন রকম রুক্ষ অনুভুতি ছাড়াই ত্বককে নরম ও মসৃণ করে। যার ফলে ত্বক হয় পরিষ্কার ও ত্বককে স্বাস্থ্যকর দেখায় ত্বকে কোন ধরনের অস্বস্তিভাব হতে দেয় না সারাদিনের জন্য সজীবতা প্রদান করে। ত্বকের গভীর থেকে ময়লা, তেল এবং মৃত কোষ তুলে এনে ত্বকে দীর্ঘস্থায়ী উজ্জ্বলতা প্রদান করে। এই ওয়েল ফ্রি ক্লিনজার স্যালিসালিক এসিড যুক্ত যা ত্বকে একনি প্রভাব কমিয়ে আনে, অনাকাঙ্ক্ষিত ব্রেকআউটস, তৈলাক্ত ভাব ও ত্বকের রুক্ষতা দূর করে পোরস নতুন করে গঠন করে।
Features
ত্বকের একনি হওয়ার জন্য দায়ী তেল, ময়লা এবং ব্যাকটেরিয়া দূর করে
গভীর থেকে ত্বক পরিষ্কার করে
ত্বকের অতিরিক্ত লালচে ভাব দূর করে
মৃদু এক্সফোলিয়েশনের কাজ করে
বিশেষভাবে একনি প্রবণ ত্বকের জন্য
স্যালিসালিক এসিড উপাদান সমৃদ্ধ
ত্বক বিশেষজ্ঞ দ্বারা পরীক্ষিত, তেল মুক্ত
COSRX Salicylic Acid Daily Gentle Cleanser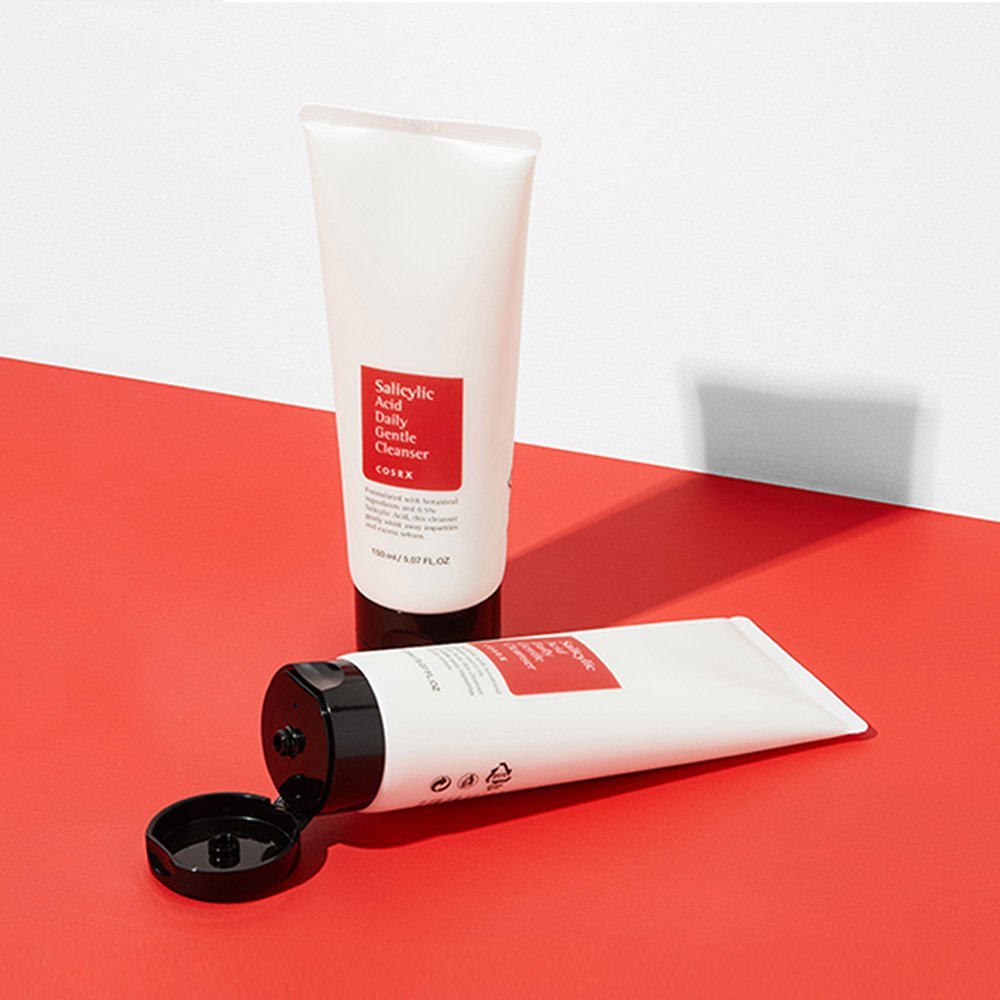 এই ক্লিনজারটি ত্বকের ব্রেক আউটসের বিরুদ্ধে যুদ্ধ করে এবং দৃশ্যমান লালচে ভাব যা একনির কারন তা দ্রুত কমিয়ে আনতে সাহায্য করে। প্রতিদিন ব্যবহারের ফলে ত্বকে ত্বকের কালো দাগ কমিয়ে ত্বককে আরো উজ্জ্বল ও আরো টান টান করে। এই বিশেষ ক্লিনজার ত্বকের অস্বস্তিভাব কমিয়ে আনে এবং অতিরিক্ত শুষ্ক হতে দেয় না।
স্যালিসালিক এসিডে আছে এন্টি ইনফ্লামেটরি ক্ষমতা, যা ত্বকের গভীরে গিয়ে পরিষ্কার করে আনে ব্রেকআউটস, পোরস বন্ধ হয়ে যাওয়া প্রতিহত করে এবং ত্বকের গভীরে থাকা ময়লা ও অসম্পূর্ণতা দূর করে। এইটা অত্যন্ত উপকারী সেন্সেটিভ ও একনিপ্রবণ ত্বকের জন্য, ত্বককে টান টান করে এবং ত্বকের সঠিক যত্ন নিতে সাহায্য করে। এই ক্লিনজার ত্বকের প্রাকৃতিক ময়েশ্চারাইজারের ভারসাম্য রক্ষা করে, ত্বককে সজীব ও আরাম প্রদান করে।
এন্টি অক্সিডেন্ট ক্ষমতা, খুবই হালকা টেক্সচারের হওয়ায় এই ক্লিনজার বিশেষভাবে একনিপ্রবণ ত্বকের জন্য আদর্শ। এই ফেস ক্লিনজার স্যালিসালিক এসিড ত্বকের অস্বস্তিভাব কমিয়ে আরাম প্রদান করে, ত্বকের লালচেভাব দূর করে, ত্বককে পরিষ্কার ও স্বাস্থ্যকর দেখায়।
ব্যবহারবিধি
প্রথম ধাপ
প্রথমে হালকা কুসুম গরম পানি দিয়ে মুখ ভালোভাবে ধুয়ে নিন।
দ্বিতীয় ধাপ
ভিজা ত্বকে পরিমাণ মতো জেল ক্লিনজার নিয়ে ফেনা হওয়া পর্যন্ত হালকাভাবে ম্যাসাজ করতে থাকুন।
তৃতীয় ধাপ
এরপর হালকা কুসুম গরম পানি দিয়ে মুখ ধুয়ে নিয়ে শুকনো তোয়েলা দিয়ে মুখ মুছে নিন।
উপকরণ
Water, Glycerin, Myristic Acid, Stearic Acid, Potassium Hydroxide, Lauric Acid, Butylene Glycol, Glycol Distearate, Polysorbate 80, Sodium Methyl Cocoyl Taurate, Salicylic Acid, Cocamidopropyl Betaine, PEG-60 Hydrogenated Castor Oil, Fragrance, Sodium Chloride, Melaleuca Alternigolia (Tea Tree) Leaf Oil, Caprylyl Glycol, Ethylhexylglycerin, Salix Alba (Willow) Bark Water, Saccharomyces Ferment, Cryptomeria Japonica Leaf Extract, Nelumbo Nucifera Leaf Extract, Pinus Palustris Leaf Extract, Ulmus Davidiana Root Extract, Oenothera Biennis (Evening Primrose) Flower Extract, Pueraria Lobata Root Extract, 1,2-Hexanediol, Ethyl Hexanediol, Citric Acid, Disodium EDTA

ইনবক্স এ মেসেজ করার পরিবর্তে, সরাসরি আমাদের App অথবা Website এ অর্ডার করলে পণ্য পাওয়ার নিশ্চয়তা বেশি থাকে। কারন, আপনার মেসেজটি আমাদের এজেন্ট পড়ার পূর্বে অন্য ক্রেতা App অথবা Website থেকে কিনে স্টক আউট করে দিতে পারে।
বাংলাশপার্স সবসময় সঠিক স্টক ওয়েবসাইট এ আপডেট করে থাকার চেষ্টা করে। এর পরেও যে কোনো কারণে ওয়েবসাইট এ পণ্যটির সঠিক স্টক আপডেট করা না থাকলে আমরা আপনাকে দ্রুত কল করে জানিয়ে দিবো যেন আপনি আপনার ডেলিভারি সম্পর্কে দ্রুত সিদ্ধান্ত নিতে পারেন।
তাই অতি জরুরী অবস্থার প্রেক্ষিতে অনুগ্রহ করে আমাদের আগে কল করে নিশ্চিত হউন পণ্য টি এখনো স্টক এ আছে কিনা। অন্যথায় কোনো কারণে ডেলিভারি বিলম্ব হলে আমরা দায়ী থাকবো না।
মোবাইল ভার্সন - https://www.youtube.com/watch?v=EfEFMpwEttI